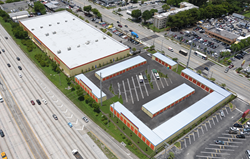 Miami, FL (PRWEB) July 27, 2014
Due to the high demand for easily accessible self storage, Value Store It - Miami has developed 107 of the most desirable drive-up units on the market. This state-of-the-art addition is equipped with a high-tech security system that allows for direct contact with police dispatch and around the clock video monitoring, with up to 24-hour customer access to their storage units.
Value Store It's new drive-up units are built along newly paved, double-wide, brightly lit drive aisles large enough for commercial vehicles to navigate with ease, making them ideal for electricians, plumbers, and anyone else working in a hands-on profession requiring quick and easy access to supplies or inventory.
In addition to the new storage units, there are also new over-sized parking spots available for recreational vehicles, boats on trailers, company vans and trucks, or car enthusiasts who simply do not have enough space in the driveway.
Value Store It- Miami was already an exceptional establishment with highly protected, climate controlled indoor units. These new additions and improvements show why Value Store It customers are the most satisfied storage users in South Florida.
Value Store It – Miami located at 9101 NW 7th Ave is located right off I-95 making it easy for customers throughout the Miami area.
For more information, visit Value Store It or call (305) 758-4141.