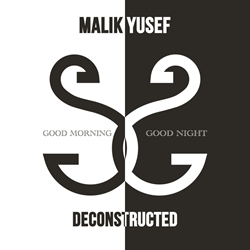 Chicago, IL (PRWEB) July 26, 2014
Coast 2 Coast Mixtapes announces the release of the "G.O.O.D Morning, G.O.O.D Night Deconstructed" Mixtape by Malik Yusef. The 20 track project is currently available for download. The mixtape features appearances from Big Sean, Cyhi da Prynce, KRS-One, Kanye West, Common, John Legend, and many more.
After appearing on fellow label mate Common's latest project, "Nobody's Smiling", Chicago based artist Malik Yusef is poised to give his fans more G.O.O.D. music with his latest mixtape "G.O.O.D Morning, G.O.O.D Night Deconstructed". This project is set to please even the most skeptical listeners with its star studded features and melodically captivating productions. The project contains two segments, "Dusk" and "Dawn", each of which has a special meaning:
"Dusk and Dawn represent the two sides to everything. That's how we keep from making the mistake of going too far into the other. Night and Day, Ying and Yang. Everything flows into the universe and we are all a part of it."
Malik Yusef the Wordsmyth is a 12 Time Grammy Award Nominee, 5 Time Grammy Award Winner, 6 Time ASCAP Award Winner (both POP and R&B categories), as well as an Emmy, Peabody, and Tony Winner. His most recent feat was co-writing 8 songs on International Superstar Kanye West's 6th release "Yeezus". Prior to that, he co-wrote 7 songs on Kanye's Double Platinum, 5th release and Rolling Stone Album of the Year "My Dark Twisted Fantasy" and was a writer and artist on 2012 Top 10 best-selling rap album "Cruel Summer" featuring Kanye West and the rest of his G.O.O.D. Music team. Malik is also credited as a writer/producer/collaborator on Kanye's critically acclaimed film Runaway which contains much of Malik's music.
Malik is a key influencer in the community. His youth literacy foundation, For Yourself Foundation, seeks out and offers alternatives to youth who have mitigating circumstances similar to Malik's troubled beginnings during his formative years. He seeks to use his star power and influence to help prevent others from making the same mistakes.
Malik's street credibility, business acumen, and philanthropic efforts make him an invaluable icon and tastemaker in today's global industry. His work with kids also keeps him on the cutting edge of what's hot in music, entertainment, and fashion. Unbeknownst to the public, Malik Yusef is a world renowned Fashionista and has been instrumental in fusing European and American fashion creating a symmetry not seen in hip-hop culture prior to his artistic emergence.
Stay up to date with Malik Yusef on his website: http://www.malikyusefjones.com and on his twitter at: @malikyusef.
About Coast 2 Coast Mixtapes
Coast 2 Coast Mixtapes are the most widely distributed mixtapes in the world, with over 100 million downloads/plays generated by over 200 volumes officially hosted by major artists. Coast 2 Coast has a solid reach in the new music industry with a digital magazine, DJ coalition, industry tips blog, yearly convention, and more. Coast 2 Coast Mixtapes represents a unique opportunity for artists of all urban genres, from major to indie. For more information, visit http://www.coast2coastmixtapes.com.