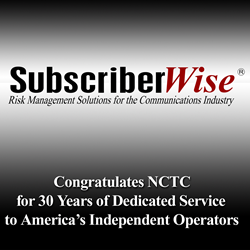 Kansas City, MO (PRWEB) July 26, 2014
Sheraton Kansas City Hotel at Crown Center - SubscriberWise, the leading provider of analytics-driven subscriber risk management technology for the communications industry, announced today that the company will attend and exhibit at the annual NCTC & ACA conference to be held in Kansas City, MO, July 27 – July 30, 2014 (https://www.nctconline.org/tis).
"On behalf of the nation's first and largest issuing credit reporting agency for the communications industry, it is indeed a privilege to once again participate in this year's The Independent Show, a leading industry event for independent cable and telecom operators," said David Howe, founder and president of SubscriberWise. "Since our nationwide launch nearly one decade ago, we've attended every yearly conference and have supported the National Cable Television Cooperative, the American Cable Association, and its nearly 1000 members with our consistent participation. This year will be particularly special since the NCTC is commemorating its 30th anniversary," Howe emphasized.
"The Independent Show has long been the most exciting - and important - annual event for SubscriberWise since so many of our member operators and their families attend each year. For virtually all attendees, the conference is the best venue to share friendship and solidarity with NCTC/ACA staff, as well as the women and men who own and operate the nation's small and midsize telecommunications companies," stated Howe. "And for exhibitors in particular, this is the perfect opportunity to build new relationships with prospective operators, their families, and employees."
"SubscriberWise was founded at MCTV (http://www.mctvohio.com) in 2006 on a similar mandate outlined by the NCTC's buying cooperative model," explained Howe. "As a preferred solutions provider in risk management for the NCTC, we share the same objective of delivering economies of scale to even the smallest member operators through pricing discounts that would otherwise never exist. In addition and most important, SubscriberWise offers NCTC member operators choice, competition, and unparalleled expert advice and consultation as it relates to federally compliant consumer credit reports, analytics, decision management and business rules technology – all among the most regulated, complex, and elaborate business technologies available in the U.S. marketplace…past and present.
Earlier this year at the prestigious Yale Club in New York City, SubscriberWise was named winner during the CableFAX 2014 Digital & Tech Awards in the category of commercial software," concluded Howe (http://www.enhancedonlinenews.com/news/eon/20140315005015/en/CableFAX/SubscriberWise/MCTV). "This was an important recognition of the powerful technology created by SubscriberWise, which delivers astonishing benefits to NCTC member operators and which also happens to touch a U.S. consumer every minute of every hour of every day. And on these points of fact, I'd like to encourage operators to visit our exhibit and make use of their time for a demonstration so that they can fully appreciate why SubscriberWise was chosen winner. It will also provide an understanding of why so many of their peers in the industry rely on SubscriberWise all days of the year."
SubscriberWise has reserved booth #405 for the exhibit and welcomes all attendees.
About SubscriberWise (http://www.subscriberwise.com)
SubscriberWise® was founded at MCTV and launched as the first U.S. issuing consumer reporting agency exclusively for the cable industry in 2006. In 2009, SubscriberWise and TransUnion announced a joint marketing agreement for the benefit of America's independent cable operators. Today SubscriberWise is a risk management preferred-solutions provider for the National Cable Television Cooperative.
SubscriberWise is a U.S.A. federally registered trademark of the SubscriberWise Limited Liability Co.
Contact
David Howe, SubscriberWise President
330-880-4848 x137