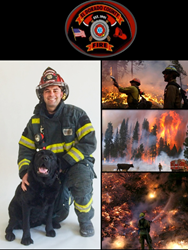 Recent local fires have been ten times the size of Disneyland. We are struggling to save people, animals, homes and businesses. Rescuing this dog from a high kill shelter and training it to help us solve fire crimes will greatly benefit our region.
Sacramento, CA (PRWEB) August 05, 2014
El Dorado County Firefighters have dire need to adopt, train and care for a desperately necessary arson detection dog. This is the opportunity to save the life of an animal from a high-kill shelter and to protect our communities - actually our whole region - from arson. El Dorado County small businesses are working together during a major fire crisis to make it happen.
The El Dorado County region of greater Sacramento does not have an arson detection dog. We are at high risk for fires. Other, lower-risk cities, have these dogs. Local El Dorado Hills businesses Talisman Collection and Ruffhaus Hot Dogs are donating thousands of dollars in goods and services to raise funds immediately so that local firefighters will have the dog that is so necessary during current and future fire crises.
This rescue dog will assist fire investigations and rescue, searching out and detecting whether accelerants are present in fire debris including the recent local Sand Hill Fire.
This rescue dog will also make appearances for school educational fire safety programs, fire prevention programs throughout the area, National Night Out Events, and other public community events
This program and the rescue and care of this dog are only possible through donations.
The EDH Fire Dept is using a trainer that is a retired SF County Sheriff Deputy who trains these dogs.
The trainer specializes in rescuing these canines from high kill shelters and training them for specific roles within public agencies.
This program is very unique in that it also provides the opportunity to save the life of an animal.
The dog is a 2 year old female Labrador/Pointer mix.
El Dorado County Fire District's Firefighters are part of the Sacramento Sierra Arson Task Force. The Task Force will would allow fire agencies from the counties of Sacramento, El Dorado, Placer, and Nevada to use the dog for their investigations as well.
All donations are tax deductible through the firefighters union, which is a non profit 501.c.3 organization. Federal Tax ID number is 94-3136816.
http://www.talismancollection.com/products/el-dorado-county-firefighters-arson-detection-dog-fundraiser