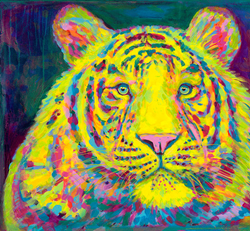 The urgency of conserving the magnificent wild tiger must be shared. If my art can help do that, I'm humbled. - Ricco DiStefano.
Phoenix, AZ (PRWEB) July 29, 2014
Contemporary Artist Ricco DiStefano has created a tiger painting for Global Tiger Day, which will also be turned into limited prints, to help raise funds to save endangered tigers.
DiStefano, who ironically lives on Tiger Mountain just outside of Seattle, Washington, says he has always had an affection for tigers and wants to use his art to help save them from extinction in the wild.
"I have always had a love for these beautiful creatures, the tigers," says DiStefano. "It's my honor to share their story of hope. I want to do my part to increase awareness and respect for their plight so if my art can in any way help save the lives of these magnificent creatures, then I will have made a difference in this world"
DiStefano's paintings are available at galleries throughout the country including Laguna Beach and Palm Desert in California; Seattle, Bellevue, La Conner and Spokane, Washington; Sun Valley, Coeur d'Alene and McCall, Idaho, and Lancaster, Wisconsin.
He has had numerous one-man and group shows including a recent Sterling Bank exhibit with Dale Chihuly and Auguste Rodin. His paintings are included in many private and public collections.
View more of Ricco's work here: http://www.riccodistefano.com.
DiStefano says this tiger painting is unique because of the personal connection he has with his subject, and his purpose for painting it.
"Almos, the Siberian tiger who was the subject for the painting, lives locally and I have had the pleasure of visiting and getting to know him personally," says DiStefano. "I chose to paint him with a rainbow of color, not only to represent his distinct markings, but as a reminder to the incredible diversity of the markings and colors within the species."
"I wanted to capture the magic of these beautiful cats in my own creative vision, and in turn, sharing a message of hope for their future," says DiStefano. "The urgency of conserving the magnificent tiger must be shared. If my art can do that, I'm humbled."
DiStefano's painting of Almos will be featured at Gunnar Nordstrom Fine Art in Bellevue, Washington. Information about the sizes and pricing availability will be available on Ricco's page on the gallery's website at http://www.gunnarnordstrom.com.
DiStefano says he will be giving 15% of the net from each piece sold to organizations helping save tigers in the world.
You can visit Ricco's website to learn more about Ricco and his work.
ABOUT RICCO DiSTEFANO:
Ricco DiStefano was born and raised in Spokane, Washington and was educated in fine arts at Rocky Mountain College of Art & Design in Denver, Colorado and Cornish College of the Arts in Seattle, Washington. He worked as a graphic designer, illustrator and art director before finding his place as a professional painter.
-----------------------------------------
Endangered Species Journalist Craig Kasnoff writes about the plight of endangered species and the efforts to save them.