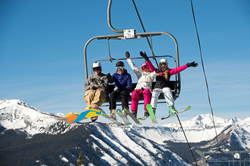 Mt. Crested Butte, CO (PRWEB) July 29, 2014
In anticipation of the 2014-2015 ski season, Crested Butte Mountain Resort is improving guest entertainment on skis and off. Upgrades to the tubing hill and snow bike rentals will make it possible to hit the slopes in more ways than one, and continued thinning on gladed runs will offer intermediate skiers more places to ski through the trees. And thanks to a new storage system for skis, getting on and off the slopes will be easier than ever. Check out the details:
Tubing Hill
The tubing hill is always a hit with the kids—even after a long day of skiing. This winter, Crested Butte plans to install a Magic Carpet® lift just for the tubing hill, bringing back the excitement of tubing to the base area's Adventure Park. The installation of the new lift will provide kids and the "kid at heart" easy, safe access to the hill. It's the perfect way to continue the outdoor fun into the evening hours, while Mom and Dad can witness from the Butte 66 deck, while enjoying their après ski drink or menu item of choice.
Continued Glading for Intermediate Skiers
Last summer, the resort thinned ten acres of trees, dramatically improving access to forested skiing. This summer, the improvements continue as resort crews partner with the local US Forest Service District to identify new areas for glading. Intermediate skiers looking for more gentle gladed terrain should get ready to weave through the trees in the East River area and off the Teocalli Lift.
Snow Bike Rentals
For the last couple of years, snow bikes have made a huge splash at CBMR's annual Slush Huck Pond Skim event, where participants try to skim across a pond on skis and snowboards. This year, guests can try out snow bikes themselves (minus the pond) by renting one of ten new bikes in the resort's rental fleet. For those new to the sport at CBMR, a two-hour instruction and guided tour around the mountain is required to ensure safe use of the equipment and knowledge of where snow biking approved routes are located. It gives a whole new meaning to carving turns. This is an easy to learn, smile-producing sport and more information on snow biking at Crested Butte can be found at http://www.skicb.com/snowbike.
Improved Ski Storage
Free ski storage has been a great perk for CBMR lodging guests, but this year it will be even better. New slopeside rack systems are being installed to streamline the service. Guests who aren't lodging at one of the resort's properties or renting equipment from the Crested Butte Rental and Demo Center can take advantage of the service for a nominal fee. Now there is no need for Dad to be carrying three pairs of skis and poles across the base area with tired kids in tow.
Latest travel deal to Crested Butte:
Book Early, Save Big! Book next winter's Crested Butte vacation by August 15 and save 30% on four or more nights of lodging for the 2014-2015 ski season. Offer valid on lodging at the Lodge at Mountaineer Square, Grand Lodge, Plaza Condominiums or Crested Butte Mountain Resort properties. Or, book by September 15 to save 25%, or by October 15 to save 20%. The earlier you plan your trip, the more you save!
Those needing to fly to Crested Butte, can also take advantage of the current airfare credit promotion, saving up to $400 when you fly into the Gunnison-Crested Butte Regional Airport. Restrictions and blackout dates apply and this offer is only valid by calling Crested Butte Vacations at (844) 993-9546.
About Crested Butte:
Nestled in the heart of Colorado's Rocky Mountains, Crested Butte is committed to preserving the pristine landscape and mountain lifestyle. With vibrant Victorian store fronts and expressive local characters, the small historic town remains true to its heritage and radiates an unparalleled welcoming and inviting spirit that celebrates a simpler life and time. Thanks to a widely diverse landscape, outdoor enthusiasts of all levels will find a new challenge with each visit. From world-class mountain biking, to legendary skiing and snowboarding, to a secluded fly-fishing experience, Crested Butte is one of Colorado's best-kept secrets.
For more information about Crested Butte's lodging, conference, meeting facilities, and special packages, call Crested Butte Vacations, (844) 993-9545 or visit the web site at http://www.skicb.com/deals.
###