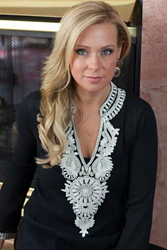 The TRENDZ focus on upscale designs for today's traveling resort woman that are ready to wear fits our 2014 Collection perfectly.
New York, NY (PRWEB) July 29, 2014
The Yatra Collection is pleased to announce it will showcase its 2014 collection at TRENDZ in West Palm Beach, Fl. this week.
The Yatra Collection, an independent fashion label, will be displayed in booth 859. Founders and co-designers – Rati Bahadur and Gayatri Khosla – are available for private appointments.
TRENDZ, which takes place at the Palm Beach County Convention Center, is an innovative apparel and accessories market that showcases a wide range of ready-to-wear collections, accessories, shoes and gifts. It is open to boutique owners and buyers only and proudly highlights that it is the largest apparel and accessories show within Florida and the Caribbean Basin.
"TRENDZ focuses on upscale designs for today's traveling resort woman that are ready to wear, which fits our 2014 Collection perfectly," Bahadur said. "For us, 2014 has always been about blending an effortless and chic style with great quality and value that fits today's lifestyle, especially for the modern contemporary woman."
Yatra Collection pieces "keep a woman looking fabulous without having to visit her closet twice in a day - whether she's headed into the office or out for a day at a resort," Khosla added. "From the very beginning, our collection has been about crossing the divide between ancient and modern - the craftsmanship is deeply rooted in history, but the silhouettes are decidedly contemporary."
Yatra Collection designs pays homage to the India of Bahadur and Khosla's grandmothers, but with a contemporary edge. The artistic line of India-inspired apparel and accessories, from classic tunics to intricately beaded jewelry, are handcrafted in India.
Yatra, in Indian traditions, means journey, or procession. And that's what the collection has been for Khosla and Bahadur, long time friends who attended boarding school together in India and realized their dreams of one day merging their creative interests in fashion to create their own label.
The Yatra Collection focuses on simple silhouettes, classic pieces and perfect tailoring.
The 2014 Collection includes new tunics and dresses in organic cotton and chiffon silk offered in sizes 2 to 18. Handcrafted jewelry features natural stones and pashmina stoles come in a variety of styles, and in light and heavy weights for all seasons and climates. Yatra Collection's designs wear well in home, work and resort life.
Schedule a private appointment with Yatra Collection at TRENDZ at yatra(dot)trunkshow(at)gmail(dot)com. Not attending TRENDZ? Book a private trunk show with Yatra Collection.
Yatra Collection has previously attended fashion weeks in New York, Virginia, Nashville and Martha's Vineyard. The collections have been on display at, among other upscale markets, Atlanta Apparel, Moda Manhattan and Intermezzo.
ABOUT THE YATRA COLLECTION: WOMEN WITH A MISSION
Long time friends since they were together at boarding school in India, Gayatri Khosla and Rati Bahadur knew that they would one day merge their creative interests in fashion and design to create their own label. Their complementary styles, interests and expertise have allowed them the freedom to bring the vibrancy and exclusive hand-craftsmanship of India to the western shores.
They design and work with high-end artisans to put together a collection a few times each year. The co-founders travel to India and immerse themselves in the chaos, and the vivid abundance of exquisite craftsmanship of artisans, two aspects that exist side by side and are so typical of India. It is in India that the designs come to life.
Learn more about the Yatra Collection at http://yatracollection.com/.