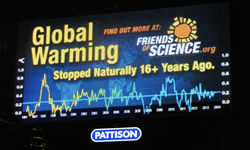 A useless, destructive tax which damaged jobs, which hurt families' cost of living and which didn't actually help the environment is finally gone.
Calgary, Alberta, Canada (PRWEB) July 29, 2014
"The Australian Government has abolished the carbon tax, effective 1 July, 2014. This will lower costs for Australian businesses and ease cost of living pressures for households" is the bold statement on the Australian government's environment website, say Friends of Science, noting this challenges conventional climate change policy 'wisdom.'
According to a related report of July 17, 2014 in the Wall Street Journal, Australia is the world's 12th largest economy and due to its reliance on coal-fired power plants, is one of the world's largest per capita greenhouse gas emitters.
Australian Prime Minister Tony Abbot, at a press conference on July 14, 2017, posted on the Australian government Prime Minister's website, said that this repeal will save voters and business around A$9 billion a year. He said of the carbon tax: "A useless, destructive tax which damaged jobs, which hurt families' cost of living and which didn't actually help the environment is finally gone" posted on Thursday, 17 July 2014.
The same Wall Street Journal story of July 17, 2014 reports that Abbot said the carbon price was acting as a A$9 billion a year handbrake on the economy.
The Wall Street Journal reports that Virgin Australia Holdings Ltd. says the carbon tax was responsible for losses of A$27 million in six months through December 2013; this could not be passed on to customers due to a competitive market - reporting a first-half loss of A$83.7 million.
JPMorgan is also cited in the same Wall Street Journal report of July 17, 2014 suggesting that valuation on companies like BHP and Rio Tinto would jump as much as 6%, due to the cancellation of Australia's carbon tax.
Energy expert and Business News Editor, Andrew Critchlow, of The Telegraph of the UK in an article published July 17, 2014 slammed the tax as "Poorly thought out and highly unpopular, the tax is almost unique in that it generated virtually no revenue for the Australian Treasury due to its negative impact on productivity; contributed to the rising costs that have taken the gloss off the country's resources boom; and essentially helped to bring down Ms Gillard's former Government."
Critchlow also noted the failure of carbon tax programs elsewhere: "Ms Gillard had also hoped that the tax would transform Australia into a global carbon trading superpower instead of the world's biggest mining hub. However, her thinking ignored the fact that carbon trading mechanisms and green taxes have largely been a failure elsewhere and especially so in Europe where they have dragged on investment and threatened long-term energy security."
Friends of Science note that the IPCC Working Group I report of September 2013 stated there has been a "hiatus" in global warming of 15 years (to 2012) – now more than 16 years, despite a rise in carbon dioxide, as reported by the Wall Street Journal Oct. 1, 2013.
"Atmospheric scientist Judith Curry testified to the US Senate on Jan. 16, 2014 that carbon dioxide is likely not the 'knob' of climate variability, that natural factors are likely more influential than human factors in global warming, and the case for human-caused warming is weakened by the evidence," says Ken Gregory, research director for Friends of Science.
IPCC scientists have been saying for years that natural climate change is small compared to human-caused warming, but those scientists are now saying natural factors have cancelled out the supposed warming from 16+ years of CO2 emissions. Dr. Roy Spencer, a principal research scientist for the University of Alabama in Huntsville wrote on July 17, 2014 on his website, "They fail to see that a climate system capable of cancelling out warming with natural cooling is also capable of causing natural warming in the first place."
After almost a dozen years of climate science review, Friends of Science position is that the sun is the main driver of climate change.
About
Friends of Science have spent over a decade reviewing a broad spectrum of literature on climate change and have concluded the sun is the main driver of climate change, not carbon dioxide (CO2). The core group of the Friends of Science is made up of retired earth and atmospheric scientists.
Contact:
Friends of Science Society
P.O. Box 23167, Mission P.O.
Calgary, Alberta
Canada T2S 3B1
Toll-free Telephone: 1-888-789-9597
Web: friendsofscience.org
E-mail: contact(at)friendsofscience(dot)org
.