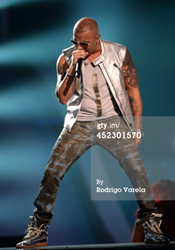 (PRWEB) July 30, 2014
Singer Wisin, of Puerto Rican reggaeton duo Wisin & Yandel, performed the hit song "Adrenalina" onstage in Robin's Jean Marlon "Lizard" print jeans alongside JLo and Ricky Martin at The Bank United Center on July 17, 2014 in Coral Gables, Florida. This shows that Robin's Jean continues to shine in the celebrity and entertainment industry as the leading for show-stopping, one-of-a-kind clothing that cultivates individuality and unique style. The Marlon Lizard Print Jeans are currently available at Neiman Marcus in Coral Gables, Florida.
Robin's Jean features a unique collection of jeans, jackets, tops, hats, and belts for men and women designed by Robin Chretien. Represented by the gold wings logo, Robin's Jean captures Robin's childhood dream of freedom and flight. Robin arrived in Los Angeles in 1996 and by 2005, he decided to incorporate his passions for designing clothes, riding motorcycles, and vintage cars with his fascination of Native American Indians to create his own line, Robin's Jean.
Robin's Jean is made in the USA and there are currently five Robin's Jean flagship store locations; Beverly Hills, CA; Soho, NY; Laguna Beach, CA; Ibiza, Spain, and as of March 2014, Garden State Plaza in Paramus, New Jersey with more to come!