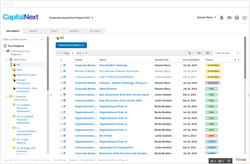 We're giving students and budding entrepreneurs access to the same tools used by deal makers all over the world.
Toronto, Ontario (PRWEB) August 06, 2014
Firmex, a global leader in virtual data rooms, is used by over 55,000 companies in 197 countries to securely share confidential documents. Virtual data rooms are used to facilitate critical financial transactions, such as fundraising, M&A, joint ventures, and investor reporting, securely in the cloud. Through a branded site and unique login, companies can upload and share confidential documents beyond the corporate firewall, applying granular permissions to documents and users to ensure sensitive information is only seen by those intended.
Firmex is pleased to extend its offering to nonprofits, startup accelerators, and educational institutions at no charge, to support their secure document sharing needs.
Firmex for Nonprofit Organizations
Firmex virtual data rooms are well-suited for nonprofits that need to share confidential documents internally, for example when organizing fundraising activities or collaborating on new projects.
Firmex for Startup Accelerators
Startup accelerators or incubators tasked with raising capital may also benefit from using Firmex. In 2012, Firmex partnered with Ryerson University's Digital Media Zone (DMZ), a community of startup companies, to help budding entrepreneurs raise capital and report to investors.
"Firmex provides a secure online space to store and organize documents, so fundraising projects can be run more efficiently and transparently," explained Mark Wright, VP, Marketing at Firmex. "By offering our platform to startup accelerators, we're giving entrepreneurs access to the same tools used by deal makers all over the world."
Firmex for Educational Institutions
Firmex is also continuing its support of educational institutions that want to provide a rich deal-making experience to their students. In 2012, Firmex partnered with the University of Manitoba, which used the platform to help host mocks deals and improve the practical application and understanding of the advisory role of counsel in transactional matters.
"Experience with the actual software tools used by transactional professionals better prepares our students to not only compete for jobs but to excel at them post-graduation," explained John Pozios, Director of the Desautels Centre.
To learn more about the complimentary use of Firmex, please click here or contact Firmex directly at media(at)firmex(dot)com. Terms and conditions apply.