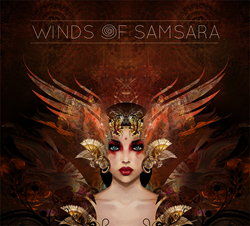 It's every artist's dream to have a #1 album, and we could not be more proud and humbled. Most important, everyone on the album --representing 5 continents-- believes the world needs more messages of peace and positivity as heard throughout the album.
Los Angeles, CA (PRWEB) July 29, 2014
"Winds of Samsara," the first collaboration between award-winning South African flutist Wouter Kellerman and award-winning Indian Composer/Producer/Artist Ricky Kej debuts at #1 on Billboard Magazine New Age Chart and #18 on Billboard Heatseekers Chart. Two years in the making, the boundary-breaking New Age album spotlights the musical, cultural and political connections between India and South Africa from Mahatma Gandhi to Nelson Mandela. It includes performances by more than 120 musicians from five continents and pushes the boundaries beyond what the New Age genre has ever produced. Winds of Samsara is distributed by Listen 2 Africa, a global company founded by GRAMMY®-winning producer and recording industry veteran Dave Love. Artists such as Ladysmith Black Mambazo, Miriam Makeba, Oliver Mtukudzi, Hugh Masekela and other top talent from this musically and culturally rich region of the world are a part of Love's ongoing commitment to southern Africa. For more on the label: http://www.listen2.com and for more on the album and its makers: http://www.windsofsamsara.com.
"We wanted to make an album throughout which messages of world peace and positivity rang true from the core of the collaborative process and the authenticity of the talented musicians who transcended borders and cultural barriers. We could not be more proud and humbled at the response the album has received thus far in only its first week of availability. To have an album debut at #1 is every artist's dream; to have it be an album that so many people worked so hard on because we all believed the messages were crucial for our world today makes it even sweeter," said Kellerman and Kej.
About Winds of Samsara
"Making this album has challenged us as artists to push borders aside and have the one common thread truly be the universal language of music. We've recorded: in L.A., Seattle, Melbourne, Johannesburg, Bangalore, Bulgaria, full orchestras on most of the tracks, choirs in Australia, India and the U.S., and we've used instruments in unexpected ways such as a Dobra, pedal steel guitar and complete string sections playing in Classical Indian styles. The album's messages of world peace and positivity ring true from the core of the collaborative process and the authenticity of the talented musicians who transcended borders and cultural barriers. What bound us all together was the desire to create music that could help affect positive change in the world, and we hope people are moved by the end result." Ricky Kej & Wouter Kellerman
Winds of Samsara debuted in its first week at #1 on Billboard New Age Charts. Mastering Engineer is 3-time GRAMMY® winner Gavin Lurssen (including 2001 Album of the Year for O, Brother Where Art Thou? and 2008 Album of the Year for Alison Krauss & Robert Plant's Raising Sand). A deluxe edition will be available later this year and includes a 5.1 HD Surround Sound mix by GRAMMY®-winner P.A. Deepak (2009 Best Sound Track Album Compilation from Best Picture Oscar® Winner Slumdog Millionaire).
About Wouter Kellerman
Globe-trotting flutist and composer Wouter Kellerman's album Two Voices won the 2011 South African Music Award (the nation's equivalent to the Grammy Awards in the United States) for Best Instrumental Album, reinforcing the artist's standing as one of his home country's most innovative musicians. Whether writing intricate instrumental compositions or delighting audiences with a magnetic alchemy of warmth and technical mastery, Kellerman finds his inspiration in the spaces between cultures and countries, genres and disciplines. He thrives on experimenting with the shades, textures, and colors that his flute can bring, pushing the instrument into new planes of creativity.
The last few years have seen Kellerman performing in Berlin, Shanghai, New York, Sydney, and beyond, including an appearance in front of 700-million people as part of the 2010 FIFA World Cup Ceremony. Amidst such fun, Kellerman simultaneously channeled his musical and life experiences into collaborations with renowned Indian composer and producer Ricky Kej, often working with his partner digitally, from oceans apart, to sculpt the beautiful musical journey of Winds of Samsara.
About Ricky Kej
A true wizard of the keyboard, manuscript page, and recording studio, Kej has earned multiple awards and honors for his composition and production exploits. His projects include creating music for five feature films, twelve albums released by Universal Music, and over two thousand commercials seen by audiences around the world. A student of both Western and Indian classical music, Kej composed original works for the opening ceremony of the Cricket World Cup 2012, held in Dhaka, India; the ceremony was telecast to more than 200 countries and widely heralded for its artistry and execution. For such efforts, Kej was declared an "India Rules Artist" by VH1 in 2013. Kej was nominated for a Cannes Advertising award for his Nike Jingle, and his previous album Shanti Orchestra was nominated for a ZMR Award (New Orleans) and a Hollywood Music and Media Award (LA).
Combining a keen sense of culture-jumping harmony, melody, and pacing, Kej synthesizes cutting-edge music technology and traditional instruments of both Indian and European origins into his work, both within the new age genre and beyond. He currently runs two state-of-the-art studios in Bangalore, the Raveolution Studios, where much of Winds of Samsara was developed from spark of an idea to finished album.
Kellerman and celebrated trumpeter David Longoria will be performing a special concert at the GRAMMY Museum on October 1, 2014. Ticket information will be available shortly. Kellerman also will be joined by GRAMMY-nominated pianist Vincent Lyn at New York's famed Carnegie Hall on October 4, 2014. For more information, visit http://www.carnegiehall.com.