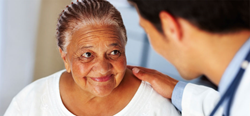 88% of therapists reported better than average response to therapy when using NAT to treat diabetic patients with frozen shoulder.
New York, NY (PRWEB) July 30, 2014
Frozen shoulder (Adhesive capsulitis) affects 10-20 percent of people with diabetes. Women are more likely to develop this nasty condition which occurs most frequently in people between the ages of 40 and 60, and can last up to two and half years if not treated.
Adhesive capsulitis is more commonly known as frozen shoulder, and with good reason: it can render your shoulder so stiff, it's almost impossible to button your shirt — that is, if you aren't in too much pain to get dressed in the first place.
In general, frozen shoulder can come on after an injury to your shoulder or a bout with another musculo-skeletal condition such as tendinitis or bursitis. It can also develop after a stroke. Quite often its cause can't be pinpointed. Nonetheless, any condition that causes you to refrain from moving your arm and using your shoulder joint can put you at risk for developing frozen shoulder.
Osteopath Simeon Niel Asher, who has been treating frozen shoulders for over 20 years confirms, "Diabetics are 5-10 times more likely to develop a frozen shoulder." It is not clear why this should be the case but experimental studies have shown that the soft tissues of the shoulder are stiffer than normal. All muscle fibers are "packed" within other tissue called parenchyma. This packing substance is made of collagen. Collagen helps to make up the elastic component of the skin and muscles (as we get older our skin wrinkles as a result of decreased collagen production).
US doctors NA Friedman and MM LaBan published a paper in 1989 (Am J Phys Med Rehabil. 1989 Feb;68(1):12-4, http://www.ncbi.nlm.nih.gov/pubmed/2917052) in which they put forward two theories as to why frozen shoulder is more common in those suffering with diabetes.
Diabetes and Frozen Shoulder - Theory 1: Because Type I diabetics are unable to regulate their blood sugar levels naturally, there are many times during the day that the sugar levels may be high, which can lead to an accumulation of sugar-alcohol in the tissues. This sugar-alcohol is called sorbitol and it accumulates in the "ground substance" of the connective tissues (collagen) where, because it has a higher osmotic pressure, it attracts water, making the tissues stiffer.
Diabetes and Frozen Shoulder - Theory 2: An alternative explanation has been put forward, whereby the properties of the collagen itself are attenuated. It has been suggested that the collagen becomes embedded with excess sugar called glycogen. This "glycosylation" of collagen leads to more bonds and bridges being formed at a molecular level between collagen molecules, thus changing the internal structure of the collagen. This means that enzymes cannot efficiently replace normal collagen wear and tear, and the tissues get stiffer.
"Not only are diabetics particularly affected by frozen shoulder, their conditions are often at the 'extreme' end of the spectrum when compared to the normal population," says Niel-Asher, who originally developed the treatment technique (NAT) that is now used by over 5,000 therapists.
Niel Asher explains, "Diabetics present with stiffer shoulders and more pain. Some of the explanation for this is that pain is relayed back to the brain in a number of ways including via small pain (nociceptor) fibers. These fibers are vulnerable to changes of blood sugar and tend to be degraded over time in diabetics. This leads to more fibers sprouting and increased blood supply, leading to an increased sensitivity to pain."
Whilst many doctors will often prescribe steroid injections for frozen shoulder sufferers, diabetics often react badly to steroid injections which can destabilize the blood sugar levels (often for weeks). And the problems for diabetics don't end there!
Because their shoulders tend to be more stiff, diabetics may also present as higher risk candidates; less suitable for arthroscopy and manipulation under anesthetic, although these procedures are usually reserved for the most severe cases. Moreover, diabetics may be more sensitive to many pain medicines for the reasons stated above (nociceptors).
"The good news for diabetics who are unlucky enough to be suffering from this condition, is that the vast majority of cases can be treated effectively with NAT," confirms Diana Osovsky, a physiotherapist who has been using NAT to treat patients for more than 10 years, "NAT works extremely well for this condition. The treatment is hands-on only, and drug free but diabetics need to be aware that it will take them half as long again to respond to treatment as a frozen shoulder patient who is not diabetic."
During the period March - July 2014, Niel Asher Healthcare interviewed 109 therapists who regularly use NAT as part of their treatment protocols and who have treated one or more diabetic frozen shoulder patient within the previous 12 months. As part of this survey - https://www.frozenshoulder.com/frozen-shoulder - the therapists (including osteopaths, physiotherapists, chiropractors, massage therapists, sports massage therapists) were questioned regarding the effectiveness of NAT when treating diabetics. 88% (or 96) interviewees agreed with the statement that "Diabetic Patients treated with NAT responded with significant reduction in pain and increased range of motion".
More information available at http://www.frozenshoulder.com.
To find an NAT therapists near you: http://www.frozenshoulder.com/search
About Simeon Niel Asher
Simeon Niel Asher BSc (Ost) BPhil, has been practicing osteopathy for 23 years and lectures frequently in the UK, EU, and Scandinavia. He is the author of the best selling "Concise Book of Trigger Points" (Random House) and is credited with discovering NAT which he first published as a technique in 1999.
About Niel Asher Healthcare
Niel Asher Healthcare was established in 1997 and operates in the United Kingdom and North America, providing education and training resources for Massage Therapists, Sports Massage Therapists, Osteopaths, Chiropractors, Occupational Therapists, and Physiotherapists.