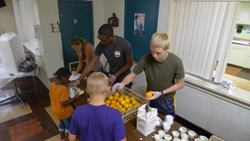 "It gives you a piece of mind to know where you vegetables are coming from." --Charon Lanier-Martin, MHS Student
HERSHEY, Pa. (PRWEB) July 29, 2014
Milton Hershey School® (MHS) has partnered with the Central Pennsylvania Food Bank to distribute fresh produce to local children living in needy communities. The school's Agricultural and Environmental Education (AEE) interns are participating in the joint venture.
"This collaboration between Central Pennsylvania Food Bank and Milton Hershey School is a great example of two like-minded organizations working together to improve our community," Joe Arthur, executive director of the Central Pennsylvania Food Bank said. "We both recognize our responsibility to make sure we are doing all that we can to make sure children struggling with hunger have access to nutritious, healthful meals during the summer months."
Each week, the interns harvest the produce on the MHS campus and travel with the Central Pa. Food Bank to area churches and community centers to hand out healthy meals. The interns also teach the children about nutrition, as well as send each child home with a bag of fresh produce.
"The goal of our AEE internships is to give students a real-world experience that fosters an appreciation of agriculture and the environment, while teaching leadership, teamwork, and other employment skills," Director of AEE Crystal Huff said.
The AEE interns have donated more than 1,000 pounds of produce to the Central Pa. Food Bank this summer.
# # #
ABOUT MILTON HERSHEY SCHOOL
Milton Hershey School® offers a top-notch education, state-of-the art facilities, advanced technology, and a wide array of activities to children in pre-kindergarten through 12th grade from families of low income. This cost-free, private, coeducational school in Hershey, PA is funded by a trust established by Milton and Catherine Hershey. The school provides a positive, structured home life year-round and an excellent education, focusing on the whole child. Our vision centers on high-quality academics, college preparation, career readiness and providing children with the skills necessary to be successful in all aspects of life. Learn more at http://www.mhskids.org.
ABOUT CENTRAL PENNSYLVANIA FOOD BANK
The Central Pennsylvania Food Bank is a not-for-profit organization that is able to reduce hunger in 27 counties across Pennsylvania. By working with more than 800 local agencies the Central Pennsylvania Food Bank provides food to more than 55,000 people in need every week. For more information on the Central Pennsylvania Food Bank and its mission to reduce hunger in Pennsylvania, visit centralpafoodbank.org or call 717.564.1700.