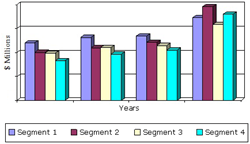 Global Market for Industrial Enzymes to Reach Nearly $7.1 Billion by 2018
Wellesley, MA (PRWEB) July 30, 2014
BCC Research (http://www.bccresearch.com) reveals in its new report, Global Markets for Enzymes in Industrial Applications, the global market for industrial enzymes is expected to reach to nearly $7.1 billion by 2018, registering a five-year compound annual growth rate (CAGR) of 8.2%. Maximum growth is estimated to be recorded in the detergent enzyme segment with a CAGR of 11.3% during the forecast period.
Enzyme technology has influenced almost every sector of industrial activity, ranging from technical field to food, feed and healthcare activity. Enzymatic processes are rapidly becoming better financial and ecological alternatives to chemical processes due to enzymes' biodegradable nature and cost effectiveness.
The industrial enzyme market is dominated by Novozymes, DuPont and DSM. Maximum growth is estimated to be in the detergent enzyme market which was valued at nearly $1.1 billion in 2013 and is estimated to reach $1.8 billion by 2018. Animal feed is the second largest segment with 10% CAGR during the forecast period.
"Increased research and development activities, pressure from environmental agencies to reduce pollution, the desire to increase the profits by reducing manufacturing costs and biotechnological advancements are the driving forces for the industrial enzyme market," says BCC Research analyst, Shalini S. Dewan. "Many industries have now begun to explore the advantages of industrial enzymes in their productions and processes, leading to a sound market."
global Markets for Enzymes in Industrial Applications provides an overview of the current and future characteristics of the global market for industrial enzymes. Industrial enzyme applications are also discussed in the report, with emphasis on technical enzymes and those used in the food and beverage industry. Analyses of global market trends, with data from 2011 to 2013, and projections of CAGRs through 2018 are included. Factors affecting the market such as the regulatory environment, growth drivers, needs of the market, and influencing technologies are discussed in this report.
Editors and reporters who wish to speak with the analyst should contact Steven Cumming at steven.cumming(at)bccresearch(dot)com.
About BCC Research
BCC Research publishes market research reports that make organizations worldwide more profitable with intelligence that drives smart business decisions. These reports cover today's major industrial and technology sectors, including emerging markets. For more than 40 years, we have helped customers identify new market opportunities with accurate and reliable data and insight, including market sizing, forecasting, industry overviews, and identification of significant trends and key competitors. We partner with analysts who are experts in specific areas of industry and technology, providing unbiased measurements and assessments of global markets. Our clients include the top companies in industries around the world as well as universities, business schools, start-ups, consulting firms and investment companies. BCC Research is a unit of Eli Research LLC. Visit our website at http://www.bccresearch.com. Contact us: (+1) 781-489-7301 (U.S. Eastern Time), or E-mail: information(at)bccresearch(dot)com.
Data and analysis extracted from this press release must be accompanied by a statement identifying BCC Research LLC, 49-2 Walnut Park, Wellesley, MA 02481, Telephone: (+1) 781-489-7301; E-mail: editor(at)bccresearch(dot)com as the source and publisher. Thank you.