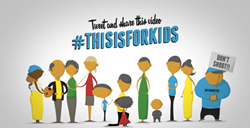 We've learned a lot about what works to prevent violence against children. Violence need not be an inevitable part of a child's life. It's a behavior that can be changed. - Michael Feigelson, Interim Executive Director of Bernard Van Leer Foundation
Berlin, Germany (PRWEB) August 01, 2014
"Violence is Preventable": This is the message of a new short film launched today by WithoutViolence (http://www.WithoutViolence.org). The animated film outlines facts about the impact of violence and underscores some of the ways in which violence in the lives of children has been effectively reduced around the globe. Giving examples of initiatives in the United States, South Africa, Turkey, and Brazil, the animated film illustrates how different approaches, such as the reduction of alcohol sales after 11pm in Diadema, Brazil, or the promotion of literacy in Istanbul, Turkey, prove that violence is a preventable problem.
The film's launch coincides with significant actions by several countries to prevent violence against children. In June, the Brazilian government made a landmark decision to approve a new law prohibiting all forms of corporal punishment against children. The Brazilian decision brings the percentage of the world's population of children legally protected from violence from 5% to 8% in 38 countries. A similar ban was adopted by Malta earlier this year. Responding to the advocacy of INFANT, a youth-led organization, Peru has declared 2015 to be the "Year of Dignity for Boys and Girls, for a Childhood Without Violence."
The film, produced by WithoutViolence in cooperation with Fenton, is available to view online at http://www.WithoutViolence.org and viewers are encouraged to share the film via Twitter with the #thisisforkids hashtag or through their favorite social media channel.
Michael Feigelson, Interim Executive Director of the Bernard van Leer Foundation, a funder of WithoutViolence: "We've learned a lot about what works to prevent violence against children. Violence need not be an inevitable part of a child's life. It's a behavior that can be changed. With the launch of this short film we are sending out the message that we can break the cycle of violence that impacts all of us. Decisions such as that taken by the Brazilian government confirm to us that there is a real desire to improve the lives of children but more world leaders need to see that real solutions do exist."
WithoutViolence recently launched the Voices From The Field Fellowships to help build the communications and advocacy capacity of organizations working to prevent violence against children so that they can inspire deeper and more sustained engagement on the issue.
Selected as Fellows are: Gary Slutkin and Karen Volker of Cure Violence (U.S., South America, Middle East), Dipak Naker of Raising Voices (Uganda), Tina Musuya of the Center for Domestic Violence Prevention (Uganda), Marissa Buckanoff and Karin Heissler of UNICEF (Global), Björn Becker and Jana Hainsworth of Eurochild (Europe), Lena Karlsson and Silvia Oñate of Save the Children (Global), Katy Barnett and Solène Edouard of the Child Protection Working Group (Global), Daniel Muhwezi and Ntakamaze Nziyonvira of CIYOTA (Uganda, Democratic Republic of Congo), Josseline Narrea Quiroz and Mayra Vásquez Tuesta of INFANT (Peru), Laura Boone and Kate Phillips-Barrasso of the International Rescue Committee (Global), and Ramya Subrahmanian of KNOW Violence (Global).
Susan Bissell, UNICEF's Child Protection Section chief, "A growing constellation of actors – from governments, to NGOs and INGOs, civil society organizations, parents' groups, children and UN agencies – are coming together around a common goal: ending violence against children. Knowing that violence is entirely preventable and that we know what needs to be done about it must further propel our collective and individual actions. The new, big goals for the international community – being negotiated now – provide yet another opportunity to incorporate violence reduction into global ambitions and targets and against which we can collectively track resource allocation and progress."
Lena Karlsson, Director of Child Protection Initiative at Save the Children said: "We're excited by the opportunity WithoutViolence will give us to strengthen our capacity to effectively communicate how we can stop violence against children. By working in collaboration with a number of other organizations who are facing similar challenges to ours, we hope to be able to enter new partnerships with the media, private sector and opinion leaders - so that we collectively bring the voices of children and put child protection higher on the national and the international agenda."
Tina Musuya, Executive Director, Center for Domestic Violence Prevention is also participating in the fellowship: "We introduced SASA! in Kampala and the program yielded very significant results in creating wide social change to prevent violence against women. WithoutViolence will help us to communicate in a compelling way the story of SASA!, and how the SASA! approach can be implemented throughout east Africa and other contexts."
WithoutViolence is a new global pilot project of the Network of European Foundations designed to help violence prevention leaders communicate solutions and accelerate impact to improve the lives of boys and girls. WithoutViolence is a joint project of the Elevate Children Funders Group.