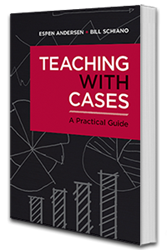 The book provides countless tips for case-method teaching.
Boston, MA (PRWEB) August 12, 2014
Harvard Business Publishing (HBP) has released a new book for instructors, Teaching with Cases: A Practical Guide. Intended for new case method instructors, or experienced professors looking to improve their discussion leadership skills, the book focuses on delivering practical advice that can be easily implemented.
Written by Bill Schiano, professor of Computer Information Systems at Bentley University, and Espen Andersen, associate professor of Strategy and Logistics at BI Norwegian Business School, the book will be particularly useful for anyone teaching in a setting in which case teaching is not widespread.
Teaching with Cases: A Practical Guide is organized by the three critical areas important for strong case-based courses: course planning and the implementation of the student contract, how to systematically lead dynamic class discussions, and providing feedback and evaluating students.
"The case method is known as an extremely effective way to teach—but many instructors need guidance on how to orchestrate a class discussion that resonates with students," said Maureen Betses, Vice President of Higher Education at Harvard Business Publishing. "The book provides countless tips for case method teaching, and its practical approach makes it ideal for instructors who may lack institutional support for their case teaching."
The book also has a number of resources--including sample cases, teaching plans, and printable templates--available online at: teachingwithcases.hbsp.harvard.edu. The book is available for $23.95 on HBP's web site in paperback and as an eBook. Visit hbsp.harvard.edu.
About Harvard Business Publishing
Academic institutions around the world use HBP teaching materials to add a real-life perspective to their graduate, undergraduate, and executive courses. These course materials vividly capture the realities of business and encourage students to play an active role in learning. HBP's offerings include:

More than 8,000 case studies from Harvard Business School and partner case collections
Online simulations and courses
Articles from the Harvard Business Review and other top management journals
Books and chapters from Harvard Business Review Press
Powerful eLearning programs
For more information, visit: hbsp.harvard.edu.
Media contact:
John Bertsch
Harvard Business Publishing
617-783-6135
john.bertsch(at)hbsp.harvard(dot)edu
# # #