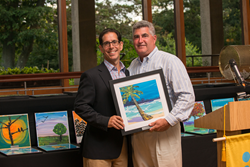 Roslyn, NY (PRWEB) August 01, 2014
Frank Zuckerbrot of East Hills was honored at Sid Jacobson JCC's 29th Annual Golf & Tennis Outing on Monday, July 28. The event, which was held at Glen Oaks Club, raised funds for the JCC's vital social services, including day programs for individuals with Alzheimer's, free wellness programming for adults with cancer and a summer camp for children with special needs.
"The JCC offers something for everyone – it is a place that brings the community together and is meaningful to everyone who steps through its doors," Mr. Zuckerbrot said.
A longtime member of the JCC, Mr. Zuckerbrot has been an active supporter of both the JCC and the Jewish community for his entire life. In 2009, the Zuckerbrot family was honored by UJA-Federation of New York with the L'Dor V'Dor Award at the Long Island Caring Community Celebration in recognition of the Zuckerbrots' generational involvement with local charities.
The event featured a sold-out day of golf and men's and women's tennis, as well as an indoor games component complete with bridge, canasta and mah jongg. Altogether, more than 200 participants came out in support of both Mr. Zuckerbrot and the JCC's mission.
For more information about Sid Jacobson JCC and its programs, call 516-484-1545 or visit http://www.sjjcc.org.