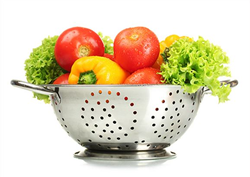 Upland, California (PRWEB) August 04, 2014
It can be enough of a challenge to keep a balanced diet throughout the winter months in preparation of swim suit season, but once summer hits vacations and parties start to fill up the schedule and there's just not enough time for it all. World Gardens Café takes care of that by offering a full menu of fully prepared healthy gourmet cuisine perfect for on the go, just heat and eat when it's convenient.
Avoid the fast food bloat with individually pre-made healthy meals that are packed with protein and all natural ingredients. The best part is these meals cost about the same as a drive-through meal without the guilt – plus delivery!
World Gardens Café offers complete meal plan options, sampler packs if you're not ready to commit, breakfast, individual meals and chef's specials to enjoy anywhere any time. Protein, vegetables and carbohydrates pack these healthy low sodium, low sugar and delicious meals perfect for any palette.
Not only does WGC offer tons of healthy alternatives, but gluten, soy and dairy free, and vegan items as well. Don't sacrifice health for convenience – World Gardens Café's got it covered.
For more information about the healthy, delicious and cost-effective meals delivered by World Gardens Café please visit http://worldgardenscafe.com/index.php/.
About World Gardens Café:
World Gardens Café's mission is to create a healthier world by providing quick, healthy alternatives to fast food. Their food helps people of all ages and dietary needs live longer, healthier lives. As the premier provider of home-delivered, fully prepared, healthy gourmet cuisine, World Garden's Cafe specializes in providing gluten-free frozen meals to clients in California, Arizona, Nevada and Utah. The delicious and flavorful meals are prepared by celebrity Chef Ravi and are then carefully packaged, frozen, and delivered to consumers' homes. Customers can purchase food online or via phone, and have the convenient option of delivery or local pickup at Foothill Kitchens which is located at 360 W. Foothill Blvd, in Upland, CA.
For more information visit http://www.worldgardenscafe.com, like WGC on Facebook and Follow WGC on Twitter.