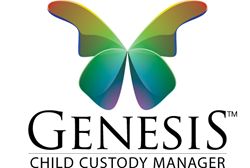 Family law attorneys recommend their clients keep a calendar when separation or divorce involves children; GenesisCCM.com helps users do that.
Bakersfield, CA (PRWEB) August 01, 2014
Ex's who want to avoid the confusion, chaos and conflict of custody management and instead focus on the best interests of their children, can now point their smartphone or tablet browser to GenesisCCM.com and log into Genesis Child Custody Manager ("GenesisCCM.com"): the groundbreaking new free mobile child custody management solution from Olive Us, LLC.
GenesisCCM.com gives single, separated or divorced parents – as well grandparents and other extended family members; child care, foster care and day care workers; family law professionals; and all other individuals with a vested interest in a child's life -- the power to comprehensively, yet conveniently use any Internet-connected mobile device, laptop or computer to manage seven key aspects of custody management:
1. Track visits through automatic child pick-up and drop-off email notifications.
2. Create records that can be used to provide evidence while avoiding disputes.
3. Manage activities by creating, storing and sharing lists, notes and comments, as well as managing, tracking and getting notified of events.
4. Ensure compliance with GPS geo-targeting to precisely identify pick-up and drop-off locations.
5. Store data for each child, including medication and allergy details, as well as other pertinent records.
6. Track expenses to capture costs that fall outside of normal child support obligations.
7. Keep records by downloading all information in .CSV format for easy review, analysis, sharing and storage (support for other file formats will be available soon).
Other notable GenesisCCM.com features include:

A simple and intuitive interface designed for ease-of-use and efficient access to all functions.
The ability to add, edit and delete contacts to ensure that only authorized individuals have access to a child's personal and/or visitation information.
Compatibility with all major browsers, with no need for a native operating system (e.g. iOS or Android).
Responsive design that automatically adjusts to the size of each user's screen.
Automatic upgrades and updates, without the need to download service packs or patches.
Spanish language version (coming soon).
"Back in 2009, I lost custody of my oldest daughter, Genesis," commented Olive Us, LLC's founder and CEO Jon Vaughn, whose insightful and unflinchingly honest journey as a single dad is captured on his popular blog at http://www.FullTimeDaddy.com. "As the non-custodial parent, I quickly realized that I had to find a better way to track my frequency of contact and get proof that I was a good dad. But the only tool I found had a steep price tag of $100 a year per parent. Plus, it was desktop-based, and I needed a mobile solution that I could use from anywhere. After months of frustration, I finally decided that the only way to get what I needed was to build it myself -- and that's when the idea of GenesisCCM.com was born."
Full, free access to GenesisCCM.com is available now. Sign-up is simple and straightforward. More information about the personal story behind the groundbreaking solution -- what creator Jon Vaughn calls "the genesis of GenesisCCM.com" – is also available at http://www.oliveusllc.com/genesis.html.
About Olive Us, LLC
Olive Us, LLC is a California Limited Liability Company and is the parent company of GenesisCCM.com (Genesis Child Custody Manager), which is designed to connect all of the people vested in a child's life and give them an easier way to communicate and coordinate, while simultaneously keeping records of frequency of contact, shared expenses, and visitation. Access is free, and sign-up is simple and straightforward.
Learn more at http://www.OliveUsLLC.com or go directly to http://www.GenesisCCM.com.
# # #