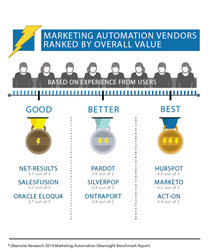 The research helps showcase the value of the technology since 8 out of 10 Top Performers use Marketing Automation.
Pleasanton, CA (PRWEB) July 31, 2014
Gleanster Research announces the publication of the new 2014 Benchmark Report on Marketing Automation, which provides a comprehensive look at the evolution of marketing analytics and closed-loop marketing inside marketing automation tools.
This new Benchmark Report on Marketing Automation highlights the experiences and intentions of 250+ companies, and features analyst commentary on 53 Marketing Automation solution providers. "Marketing Automation continues to be a hot area of investment for firms of all sizes and industries. But adoption trends suggest users struggle to fully embrace core capabilities like lead scoring and measurement," says Ian Michiels, Principal Analyst at Gleanster and the report author.
"It's imperative organizations realize that 1) marketing automation is no longer an option for firms that hope to compete for mindshare from empowered consumers, and 2) marketing automation isn't just for marketing, it's a revenue optimization tool and that demands 100% support from the sales department as well," says Michiels.
The report highlights the nuances of managing a "revenue lifecycle" inside a system that demands best practices that are largely foreign to new adopters. "There's still a huge need for education, but the volume of content and survey data covering the space can be debilitating for buyers. We are actually contemplating a reduce coverage of the space, though the insights derived from Top Performers and the crowd-sourced vendor rankings seem to be driving compelling value for buyers. Plus, the research helps showcase the value of the technology since 8 out of 10 Top Performers use marketing automation."
This powerful report features vendor reviews of 29 LMA vendors, an analyst perspective on each, and vendor rankings based on the experiences of end users. ActiveConversion, Act-On, Adobe (Neolane), Agilone, Aprimo, Aptean, BeanstalkData, Bislr, Callidus Cloud (LeadFormix), ClickSquared, Decision Software, Distribion, eTrigue, Firstwave, Genius.com, Genoo, GreenRope, Hubspot, IBM (Unica), Infer, Infusionsoft, Kali8, Lattice Engines, LeadLife, LeadMaster, LoopFuse, Lyris, MakesBridge, Marketo, Microsoft (Marketing Pilot), MindMatrix, Mintigo, Net-Results, Netsuite, Ontraport, Optify, Oracle Elouqa, Pitney Bowes, PUBLITRAC, RedPoint, RightOn Interactive, Sales Engine International, Salesforce.com Pardot, SalesFusion, SalesOptima, SAP, Silverpop, Sitecore, Teradata, Treehouse Interactive, True Influence, Velocify, and Venntiveare are covered in the report.
To download the report, visit http://www.gleanster.com/gleansight/2014-marketing-automation.
About Gleanster Research:
Gleanster surveys the most effective business leaders on the planet, and publishes the findings online so you can emulate their success. Our reports highlight the experiences of Top Performing organizations: why they invest in technology, how they overcome challenges, and how they maximize the value of their investments. For more information, please visit http://www.gleanster.com.