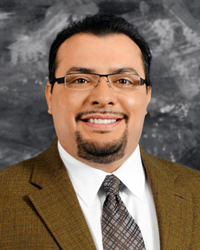 San Antonio, TX (PRWEB) August 01, 2014
Dear OSI patients/friends/staff,
It is with great sadness that OSI announces the untimely passing of our friend and co-founder, Eloy Castaneda, FNP.  Eloy was a close friend, my partner, and my Christian brother.  Without Eloy, OSI would not exist.  He single-handedly managed and maintained the clinic while I was in the military, making it both a reality and a possibility.  Eloy had a wealth of knowledge back then and grew to have clinical acumen second to few.  He had a mind that could remember the subtlest of details and never forgot a name, a face, or a fact.  He had a gentle soul deep down and sincerely loved his work, co-workers, and his patients.  On many occasions, he told me his work was "his life".  He lived passionately and energetically.  His laughter lit up a room and his ability to recount a story, a book, and a movie captivated many.  He had a jovial spirit and was full of life. He lived his life in extremes: extreme love, devotion, loyalty, and mood.  He loved the Lord and God and prayed constantly for others and himself.  He was like a brother to us all and a father to those he mentored. He helped many people in many different ways, never seeking recognition or accolades when he came to the help of a friend or co-worker. I never doubted his ability to work up a patient and help me yield a correct diagnosis or treatment plan.  My children knew him as  "Uncle Eloy" and loved him as much as my wife and I did. Those that knew him well, knew his inner softness and kindness.  Those that knew him superficially knew him as the life of the party, the entertaining addition to my team. At the center of it all, he was like my brother.  There is no one like Eloy. There will never will be another like him. I miss him as my close friend, but I also miss the opportunities he would have had to brighten a smile and comfort a patient in pain. Only God understands the reasons behind calling Eloy home now.  I will miss him greatly. OSI will not be the same without him but we are dedicated and committed to delivering the level of care Eloy provided so many patients in need. He never forgot a patient or their family or their story.  We will never forget him. May God rest his soul and bring peace to those of us who loved him, especially his family.
Dr Cyr
Steven J. Cyr, MD, FAAOS