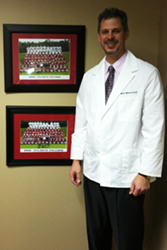 Buford, GA (PRWEB) August 01, 2014
Dr. Randolph S. Moore, a dentist in Buford, GA, now accepts patients to his practice who are looking for a solution to receding gums. Dr. Moore offers a wide variety of dental services that provide solutions to a number of dental issues, including a cutting-edge technique for the treatment of gum recession. The Pinhole Surgical Technique™ is available through Dr. Moore's practice, enabling patients to correct their gum recession without tissue grafting, scalpels, or sutures.
Receding gums is a fairly common issue as there are a number of instances in which gum recession can take hold. The most common of these instances is periodontal disease, which is a problem that should be addressed immediately due to the potentially severe consequences that can arise if left untreated. There are other issues that can cause the gums to recede, including the use of an improper brushing technique, certain medications, and even other periodontal procedures. For most patients, the resulting gum recession can be treated with the Pinhole Surgical Technique™, and treatment can usually be completed in one office visit.
The Pinhole Surgical Technique™ only requires Dr. Moore to make a very small hole through which specialized instruments are used to loosen and reposition the gums, eliminating the appearance of receding gums. The cosmetic benefits are immediate, and the healing process is very quick. Through the use of this procedure, it is possible to treat multiple sites in a single visit, and the procedure is often complete in under an hour.
Patients seeking a dentist in Buford, GA to address their gum recession or other dental issues can turn to Dr. Moore for the least invasive, state-of-the-art techniques. Patients who are interested in learning more about the Pinhole Surgical Technique™ or would like to schedule an appointment for consultation should contact the office of Dr. Moore at their earliest convenience.
About the Doctor:
Dr. Randolph S. Moore is a general dentist offering personalized dental care for patients in the Buford, GA area for over 20 years. Dr. Moore received his degree from the University of Alabama in Birmingham, and completed his residency at the Veterans Hospital in Birmingham. Dr. Moore is active in the dentistry field and is a member of the Georgia Dental Association, the American Dental Association, American General Dentistry, American Academy of Cosmetic Dentistry and ICOI (International Congress of Oral Implantologists). To learn more about Dr. Moore and his dental services, visit their website at http://www.smilemooredentistry.com/, or call (770) 545-6141.