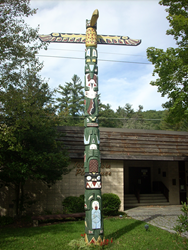 Relax and enjoy a summer wine festival--POP A Cork for The Capitol; it is living art.
Franklin County, PA (PRWEB) July 31, 2014
This August, the Franklin County Visitors Bureau wants to share the amazing art of Franklin County, PA. August 2014 has a very special phenomenon--five Fridays, Saturdays and Sundays. The calendar only aligns like this every 823 years, so it is literally a once-in-a-lifetime opportunity for five chances to get in a late summer, three-day getaway to explore Franklin County and an array of performing and visual arts.
The first of the five weekends offers Totem Pole Playhouse's smashing performance of The Foreigner, on August 1, 2, and 3. The comedy stars Ken Jenkins, well-known from Scrubs and Cougar Town, Jill Larson of the long-running soap All My Children, and Dan Jenkins, nominated for a Tony Award in Big River. Totem Pole is one of a handful of summer stock theatres in the U.S. For more than 65 years, Totem Pole has been bringing the quality of Broadway to south central PA. On the remaining four extended weekends, Totem Pole is staging the family musical Godspell, directed by Rowan Joseph and featuring the talent of local church choirs. Friday shows are 8 PM, Saturday shows are 3 PM and 8 PM, and Sunday shows are 3 PM.
Throughout all five August weekends, Destination ARTS in downtown Waynesboro brings art to the streets of downtown in six galleries displaying oil paintings, watercolors, pottery, fiber arts, sculpture, photographs, furniture, prints plus live musicians on the square. The six galleries are located at 42, 50, and 74 West Main, 10 and 20 East Main, and 13 South Church Street. Galleries are open on Fridays from 5 PM to 8 PM, on Saturdays from noon to 6 PM, and Sundays from 1 PM to 4 PM. It is an amazing display and immersion in all forms of art.
POP A Cork For The Capitol on August 16 is the centerpiece of art weekend number three. POP A Cork is a wine-tasting fund-raiser in the historic, art-deco theatre, which opened in 1927. Winemaking is an art, and the art of seven PA wineries is offered for tasting throughout the day, along with a variety of live music inside and outside the theatre. Relax and enjoy a summer wine festival; it is living art.
Franklin County, PA is located just over the Maryland-Pennsylvania border along I-81. It is less than two hours from the Washington, DC and three-and-half hours from New York City. Travel the trails of Franklin County through acres of farmland and forests. Trek back to frontier settlements and forts, stopovers along the Underground Railroad, and sites of Civil War raids and invasions. Woven between the stories that make America's history are the verdant, rolling hills and azure skies; old-fashioned ice cream parlors and bakeries with shoo-fly pies and sticky buns, orchards with succulent sweet peaches in July and crisp, juicy apples in October; theatres and inns; ski slopes and golf courses; and clean, charming towns where people still smile, stop, and speak.