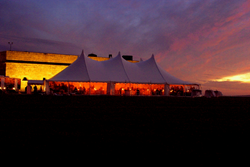 What we offer here is a walk through history, extrodinary architecture and engineering, unbeatable views, and a plethora of options.
Newport, RI (PRWEB) July 31, 2014
"If a one-of-a-kind venue with awesome views of the coast and blue waters of Southern New England are important to you, there is no better place than Fort Adams, " says Laurie A. Labrecque, Director of Special Events, Fort Adams Trust. "You can chose from multiple sites on the property, each with amazing 'castle like' architecture as a back drop, and sprawling lawns stretching to blue waters dotted with yachts of all sizes.
Both indoor and outdoor spaces are available within the grounds of the Fortress. Events held here include weddings and personal events, corporate meetings and retreats, educational trips, and public events. "We have hosted events ranging from a 30 person wedding, to a 3,000 person 'Surf Fest'. That's the great thing about the Fort, it has plenty of space, and it is formatted in a way that any size event feels comfortable," says Labrecque.
In the coming years Fort Adams will have up to seven rental spaces available, "which is the great thing about working with the largest coastal Fortress in America," adds Rick Nagele, Executive Director of the Fort Adams Trust. "We are continuously making efforts to engage the community and the country, since Newport is seen as a 'destination' location that is close to home for many. What we offer here is a walk through history, extrodinary architecture and engineering, unbeatable views, and a plethora of options."
Labrecque continues, "the support of our Fort Adams Trust Board, the Fort Adams Foundation, the Department of Environmental Management, and the State have made it possible for us to continue our goal of making the Fort an ideal destination for anyone. So in addition to the fabulous group tours, the events here are so beautiful, the backdrop cannot be beat!"
For more information on hosting an event here at the Fort, and get up-to-date details on new rental spaces, visit http://www.fortadams.org.
About Fort Adams
Today, Fort Adams is Newport, Rhode Island's edgy & adventurous learning and event destination. It offers corporations and individuals a variety of meeting and event sites, is host to the world famous Newport Folk & Jazz festivals, and was home port to the most recent America's Cup World Series – a premier sailing event.
When built, Fort Adams, largest coastal fortress ever built in North America, was the second only to the Erie Canal as largest construction project in the United States. The Fortress was a learning laboratory for builders of fortifications. In many ways, this fort can be thought of as the 'NASA of its day.' The builders experimented with critical construction elements and design features, tested, revised, and recorded their findings. They then communicated their results to other construction teams throughout the United States. In a sense, Fort Adams is where America learned how to build large, complex military systems.
The Fort was active for well over 100 years, defended the coast of Southern New England and trained and dispatched soldiers abroad through four wars.
About the Fort Adams Trust
The Fort Adams Trust is a 501 (c)(3) non-profit responsible for preservation, programming, and promoting the National Historic Landmarks in Fort Adams State Park in Newport, Rhode Island. Over 100,000 people tour the Fort and attend events in the Park annually. The Trust, descended from the Fort Adams Foundation, accepts donations to support its preservation and programming missions.
About Newport, Rhode Island
Newport, often called the City by the Sea, is also referred to as 'New England's second global city.' In addition to the incredible historic destinations, great restaurants & shops, and unrivaled scenic beauty, and active creative and defense economy, there is a cosmopolitan sophistication to the City. International visitors abound and multiple languages on the streets.