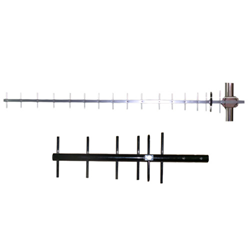 (PRWEB) August 03, 2014
A Yagi antenna is also known as a Yagi-Uda array; it is a directional antenna consisting of additional parasitic elements (usually a so-called reflector and one or more directors) and a driven element (typically a dipole or folded dipole). In most of the cases, the so-called directors are shorter, while the reflector element is slightly longer. This kind of device offers a very substantial increase in the antenna's directionality and gain compared to a simple dipole.
Recently, ZDA Communications, a famous online supplier, has proudly announced its new collection of Yagi Antenna. Moreover, all the new items are available at discounted prices, up to 30% off.
Along with the newly-released Yagi Antennas, DA Communications also provides many other useful items. Also, it offers Antennas, 1700/2100 MHz AWS Antennas, 2.4 GHz Antennas and Cell Phone Antennas; all these practical items are in stock and ready to ship.
"We are excited to announce the new selection of Yagi Antennas. We want to make our high end products available to all the global clients. Those who are interested in the discounted Yagi Antennas should make sure they don't miss out this great chance. When doing business with our company, clients do not have to worry about anything," the company's CEO says.
About ZDA Communications
ZDA Communications US LLC is an ISO9001 manufacturer and supplier of all kinds of wireless antennas, including Yagi antennas, Parabolic dish antennas, cell tower sector antennas, External wireless antennas, mobile antennas, Broadband and Ultra Wide Band Antennas. For more details of ZDA Communication and its products, please visit http://www.zdacomm.com/yagi-antenna/.