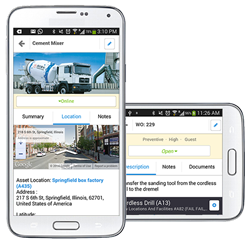 "MA CMMS™ Mobile is the latest extension of our cloud-based CMMS, and is built on our new API platform. The world has gone mobile, maintenance is no exception." - Marc Castel, CEO
Toronto, Canada (PRWEB) August 05, 2014
Maintenance Assistant Inc., one of the world's leading maintenance software platforms, launches MA CMMS™ Mobile, designed to help maximize productivity and equipment up-time while ensuring health & safety compliance. "We're seeing more and more users logging into their CMMS from mobile smartphones and tablets, so we decided to overhaul our entire mobile user experience", said Marc Castel CEO. "MA CMMS™ Mobile is the latest extension of our cloud-based maintenance management software, and is built on our new API platform. The world has gone mobile, and there's an expectation that the information needed to get the job done should be at your fingertips and in real time. Maintenance is no exception, and our completely redesigned mobile CMMS will help free up time for technicians to do more productive tasks."
"We've built MA CMMS™ Mobile with the latest mobile technology," said Daryl Sedgman, President. "Many CMMS mobile apps are web-based, making them feel clunky and unnatural on a smartphone. We decided to build a native app instead, so we could use the functionality on the device such as its GPS, camera, scanner, NFC and memory. Technicians can now document damage, and confirm that work is done by taking photos with their smart phone. Those photos are attached directly to work orders right from the field as they perform their inspection rounds and maintenance. The mobile app also gives users field-access to any maintenance procedures, manuals, machine data or health and safety information that was loaded into the system. MA CMMS™ Mobile also takes advantage of the bar code and QR code scanning capabilities of the phone, using it to instantly access equipment, work orders, parts and supplies. The navigation has been optimized to reduce the number of clicks needed to complete tasks, and the app was streamlined to minimize data traffic on mobile networks. It's an elegant SaaS cloud app that takes the mobile experience to the next level, and is available free to new and existing MA CMMS™ users on either the Apple or Google Play apps stores."
MA CMMS™ Mobile helps organizations:

Streamline processes, eliminate paperwork and shorten work cycles
Provide technicians with the real-time data they need to increase first-time resolution rates
Capture 100% of asset touches, materials used, labor and meter readings associated with work orders
In addition, MA SpareTime™ - a patent pending technology developed by Maintenance Assistant, has been integrated into MA CMMS™ Mobile, giving new and existing users the ability to quickly and easily add data to their CMMS, and build their asset hierarchy during a simple plant walk through, rather than trying to visualize it from an office desk. For new users, MA CMMS™ Mobile will do all the configuration in the background with no need for IT support, so maintenance professionals can focus on quickly getting their maintenance organized and boosting productivity instead.
About Maintenance Assistant CMMS
Maintenance Assistant is an Enterprise Asset Management and CMMS cloud solution used by thousands of asset-intensive businesses around the world to transform their maintenance operations, eliminate waste and costly downtime, and manage risk. Our flagship product, MA CMMS™ is a core business management tool used by maintenance managers, technicians, engineers, purchasing agents and business owners to streamline their maintenance operations and improve their bottom line. Since its launch in 2006, Maintenance Assistant's CMMS has been deployed in over 150 countries and in more than 30 languages. We are one of the fastest growing cloud-based maintenance software solutions, providing a modern CMMS / EAM experience to customers around the world.
For more information please contact: meredith(at)maintenanceassistant(dot)com.