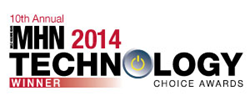 Tech Choice Awards recognizes companies that provide the most innovative solutions.
DALLAS, TX (PRWEB) September 02, 2014
Multi-Housing News is a respected source of news, information and analysis that has served the multi-housing industry since 1966. This year marks its tenth year to identify the multi-family industry's top technology product and services providers by popular ballot of its 25K subscribers. Included on the winner's list this year is RentPush.com div Spherexx.com that was selected as one of the choice companies "who provide flexible customization, competitive pricing, and the most innovative solutions, all backed by superior customer support."
Spherexx.com launched RentPush October 2012. It has since performed annual, actual occupied rent increases ranging from 5.6% to 11.8%, which represents as much as 10.8% above the relative, competitive market. Although the increases have topped the market, the RentPush team is quick to state that income gain is not the singular or utmost goal of the RentPush success formula. Selective pricing strategies are set in motion to target the asset owners' specific objectives, and are ultimately aimed toward value optimization.
RentPush offers a unique balance of algorithmic income optimization, statistical modeling; predictive analytics; finance and operations management. Translated, that means streams or feeds of property and market related data from such sources as the asset's accounting program, traffic demand, competitor market survey data, economic trends, and demographic data are all analyzed along with historical data to maximize pricing, reduce risks and control operational expenses. Additionally, RentPush generates advanced financial reporting that goes far beyond the limits of property management accounting capabilities. RentPush will publish reports for return on investment, case study, amenity analysis based on demand and days vacant, compliance, team scores, and commission tracking to name a few.
One of the unique features that RentPush offers clients is the ability to transact renewals online. Residents receive price quotations based on various terms via email and can log in to complete the transaction online. Renewal options can be reviewed simultaneously by onsite, offsite and executive managers along with other crucial data. Revenue managers can drop in on any dashboard access level with a click, which enhances communication and allows for quick responses. The RentPush renewal audit report reveals any deviation from the company's renewal policies. Lease expirations are controlled on multiple levels such as seasonal demand, days of the month, and projected days vacant to control turnover costs.
During research conducted prior to initial program development, the RentPush team observed that both prospects and personnel had challenges with current revenue management systems when trying to identify available apartments at the prospect's desired price, type, occupancy date and location, since so many variables existed. As a result, RentPush created an online pricing presentation that serves prospects and subscribers with quick drilldown capability. Web guests are taken through an easy-to-use, intuitive and filtered presentation, via traditional or mobile view; that guides them to the best matches to their criteria in short order. They can view special attributes of a specific apartment and generate a price quote on the spot that secures the price for a given length of time and provides details, features, layout, and other lease term pricing options. Patty Crowder, President of Elevate ROI says, "RentPush.com takes the guess work out of pricing; it does the heavy lifting so our leasing teams are freed up to devote more time to superior customer service."
RentPush.com offers three pricing tiers, affordable set up fees and no portfolio limitations. Subscribers may select an essential subscription, a pro version that includes additional dashboard capabilities, or the analyst version that offers services of a highly qualified revenue manager. Visit VIDEO DEMO to schedule a personal tour.
About RentPush.com® div Spherexx.com®
RentPush is revenue management, asset optimization software based on scientific modeling and simulation combined with operational controls, performance goals, compliance platform, ROI monitoring and forecasting. It assimilates integral accounting, operational and market data into optimum price per unit while providing gyro controls of how operations are impacting assets: raising flags, offering perspective and direction. It generates prime rates for renewals and new leases to maximize total revenue growth. RentPush.com publishes pricing in compelling, streamlined sequences that eliminates objections and frustrations associated with demand pricing choices. The program automatically analyzes current rent roll criteria, leasing history, competitor market data, regional trends, plus other factors that impact pricing structure. RentPush.com forecasts rents and adds time tested industry specific metrics to guide customized revenue management strategy to its science-driven structure.
About Spherexx.com® Advertising Agency | Software Development | Business Intelligence
Spherexx.com is recognized as an established leader for website, Internet marketing and software development services since 2000. With offices located in Tulsa, Dallas, and Houston, the company has been distinguished as one of INC5000's fastest growing companies. Spherexx.com is a recipient of International Summit Creative Awards for creative and communication excellence and Internet Advertising Competition (IAC) awards for best real estate website and for outstanding websites. Spherexx.com is also a 2013 Webby Honoree.
Spherexx.com offers a wide selection of professional services including web design and development, touchscreen kiosks, Internet lead generation tools, online advertising, consulting, advanced mobile technology, apartment lease-up marketing consulting, and search engine performance. The company also provides branding services, video/multimedia production, print media, and copy writing, as well as website and email hosting, database solutions, pay per click, e-commerce solutions and custom programming.
The company has developed CRM (customer relationship management) products, marketing and lead generation tools that allow clients to better manage and convert leads to leases and sales and increase property values. These applications are branded under ApartmentWebsites.com, Messagekast.com, ILoveLeasing.com®, MarketSurveyTools.com, RentPush.com® Revenue Management Asset Optimization and RentIntel Business Intelligence. Spherexx.com provides web-based prospecting, marketing, advertising management, and support services.