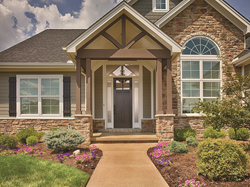 Maumee, Ohio (PRWEB) August 07, 2014
Nothing says "welcome to our home" like an inviting front entryway. During Door Do-Over Week(August 3-9, 2014), experts at Therma-Tru Corp. offer homeowners advice on adding curb appeal to the home with tips on selecting the front door's style, color, glass, and design.
For homeowners with a worn-out, inefficient or tired-looking front door, a "door do-over" can easily be achieved by using free on-line and app tools from door manufacturers.
The newest tool from Therma-Tru is the DoorWays App for iPhone and iPad. The DoorWays App brings mobile shopping and visualization together into one tool that makes the selection and buying process quicker and easier for homeowners.
"The DoorWays App is the first U.S. configurable entry door visualization tool available from the App Store," says Brad Johnson, vice president of marketing at Therma-Tru Corp. "This app sports built-in features that allow users to select and configure a new door, take a picture of the home, 'try' the door on the home visually before committing to the door purchase, and then find a dealer in the area where the door can be purchased."
The new marketing tool features the Therma-Tru portfolio of fiberglass doors in the most popular sizes, as well as decorative, privacy, and specialty glass.
"App users can share their doorway designs with friends and family through email and social media," says Johnson. "An added benefit is that when the app user is ready, the DoorWays App lets you send different Therma-Tru entry configurations direct to your nearest dealer -- complete with style numbers -- to request more information and price quotes."
The DoorWays App is available for free from the App Store on iPhone and iPad, or at http://www.AppStore.com.
Smart, Free Door Design Tools
The "Door Designer" program from Therma-Tru allows homeowners to select a house style that matches their own home. The next step is to select a door shape and style that are electronically inserted on the sample house. Homeowners can customize the on-screen entryway by "trying on" different door styles and glass packages, along with selecting various colors for the sample home's exterior, roof and façade.
The "My Saved Doors" tool allows homeowners to upload a photo of their existing home to the site and then browse Therma-Tru's online product catalog to select doors they like. The tool allows people to save the doors they select and make side-by side comparisons to the features they like best while looking at the picture of their own home on the screen. Finally, homeowners can save and print out their final selections to share with family and friends via e-mail, Facebook, and Twitter.
Therma-Tru also offers the Picture Perfect™ Virtual Designer that provides homeowners with the opportunity to upload pictures of their own home and make changes online by swapping in different door styles. Homeowners can contact their contractor or dealer to use this online tool.
About Therma-Tru:
Therma-Tru is the leading entry door brand most preferred by builders and remodelers. Founded in 1962, Therma-Tru pioneered the fiberglass entry door industry, and today offers a complete portfolio of entry and patio door system solutions, including decorative glass doorlites, sidelites and transoms, and door components. The company also offers low-maintenance Fypon® urethane and PVC products. Headquartered in Maumee, Ohio, Therma-Tru is part of Fortune Brands Home & Security, Inc. (NYSE: FBHS). For more information and product warranty details, call (800) 537-8827.