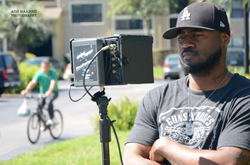 "With this film my only objective is to enlighten the audience to what could be a scary reality."
Orlando, Florida (PRWEB) August 06, 2014
While 'Google Glass' continues to be banned and pre-banned at public establishments across the country; one indie filmmaker shows his support of the Anti-Glass movement and the U.S. Representatives who express concerns about the device; by taking a fictional but thought-provoking aim at the controversial technology with his directorial debut 'Ex Post Facto'.
Ex Post Facto is now playing free at: http://www.expostfactomovie.com, and welcomes you to a reality where every day people have the ability to play out any fantasy of any nature… no matter how light or dark… in real-time.
The film is titled after a law that refers to a law being adopted after an act is committed making it illegal, although it was legal when done. Inspired by the release of Google Glass, Antonio R. Cannady wrote, produced, and directed the 13-minute drama / sci-fi, which tells the story of two MIT graduates who invent a device that will not only rival one of the world's largest tech companies but also question the morality of our society.
As Google Glass slowly rolls out and the drawbacks of the gizmo arise, Antonio is the first filmmaker to create a serious film highlighting this type of technology. He supports U.S. Representatives who continue to voice concerns over Google Glass such as safety, privacy and security problems when it comes to the device, and are calling for limitations to be implemented. Antonio states: "With this film my only objective is to enlighten the audience to what could be a scary reality."
Understanding that threats are real; banks, casinos and even hospitals across the country have outright banned or have pending bans in place to protect themselves and visitors of their establishments.
Some may think the concept of the film is a far stretch compared to today's technology. Or is it? London based firm, This Place has already developed a software called 'MindRDR' that allows Google Glass users to control the device with their mind. This software combined with Google Glass allows you to simply look at a subject and trigger the camera to take a picture via thought.
Audiences are encouraged to view the film and join the discussion on http://www.facebook.com/expostfactomovie

*** http://techcrunch.com/2014/07/09/forget-ok-glass-mindrdr-is-a-new-google-glass-app-that-you-control-with-your-thoughts/