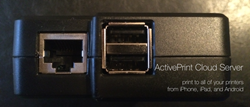 Small, energy efficient, smart, and powerful. We packed a lot into this little box.
Beaumont, Texas (PRWEB) August 04, 2014
Since releasing ActivePrint on the popular Apple iOS platform, a huge community of ActivePrint users has been created who are interested in printing from their iPads and iPhones without being limited to a select few models of printers from just one brand. This community has been a great resource for developing the new ActivePrint Cloud Server.
The ActivePrint Cloud Server is a small standalone box that is about the size of a couple of iPhones stacked together and runs on less electricity than most energy efficient lightbulbs. Despite its small size it has a lot of capabilities. Simply plug it in to an internet connected router or a Cable/DSL modem and it is ready to go. Printers can be connected to the ActivePrint Cloud Server either over the Local Area Network or directly to its two USB ports. Once a printer is connected to the Cloud Server that printer is made available to iPhones and iPads through either AirPrint or ActivePrint Cloud Printing Service or to Android and Google Chromebooks through Google Cloud Print service.
The ActivePrint Cloud Server is compatible with network and USB printers from many popular printer manufacturers including HP, Canon, Brother, Xerox, Epson, Lexmark, and many more.
The ActivePrint Cloud Server is available for pre-order for $149.95 from Friday August 1st through August 15th through the website. All pre-orders will be shipped by August 18th and receive free shipping.
**********************************
ActivePrint Cloud Server Product Page
Purchase Page
Demo Video On Vimeo