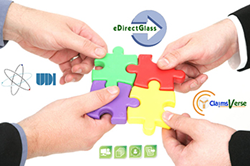 Combining our industry expertise with UDI's impartial administrative services will enable us to offer options to the insurance and automotive glass industries.
Scottsdale, AZ and Du Bois, PA (PRWEB) August 05, 2014
On Tuesday, eDirectGlass and Universal Data Interchange (UDI) announced a strategic partnership to offer new automotive glass claims services and technologies to insurance companies. This partnership supports eDirectGlass' ongoing push to deliver autonomous automotive glass claims technology for the automotive glass repair and replacement industry.
"We very much look forward to working with UDI. This partnership is an entirely new model, for which we have high expectations," said Chuck Isaly, president and CEO of eDirectGlass. "Combining our industry expertise with UDI's impartial administrative services will enable us to offer options to the insurance and automotive glass industries, options that are clearly superior to any currently available. eDirectGlass has created the premiere automotive glass claims technology platform called ClaimsVerse. This platform allows the insured, glass shop and the insurance company full visibility over the claims process, which is not offered by the industry's leading third-party administrators," concluded Isaly.
ClaimsVerse delivers a seamless process, where all trading partners are in control of the glass claim, while insurance companies and their partners can establish inspection and audit reviews without disrupting the glass retailer's sales and repair process. ClaimsVerse also allows insurance companies to realize the freedom of deploying virtual third-party administrative and direct bill services that enhance overall policy holder satisfaction.
"Our policy has always been to put the interest of the insured first without compromising the integrity of the claims process," said Cathy Evans, president of UDI. "Our new association with eDirectGlass and their licensed partners like the Independent Glass Association will facilitate the creation of the premiere claims solution by combining our existing capabilities. The result will be a dramatic and very positive change in the way automotive glass claims are handled. Today's administrators operate on behalf of their interests only. It is time for a new methodology that provides all glass shops and insurance companies, large and small, equal consideration in the resolution of automotive glass claims. That is our goal; fairness, functionality and quality service. As an industry veteran, I am very pleased to form this new partnership with eDirectGlass. It will lead to exciting new opportunities for the industry," concluded Evans.
Technology, in the form of Internet and cloud-based tools like the family of eDirectGlass ClaimsVerse products and services combined with the call center and leading audit services from UDI will facilitate the resolution of problems that afflict the automotive glass claims industry today by delivering measurable compliance automation and control, definitive return on investment, and true ease-of-use.
About eDirectGlass
eDirectGlass, owned by AMJ Logistics(TM), Inc. and founded in 1995, is a privately held corporation based in Scottsdale, Arizona. AMJ builds applications and solutions where all aspects of the manufacturing, supply chain vendors, insurance and end-user industries converge. These applications and solutions enhance productivity, profitability and increase customer satisfaction critical to the growth and success of the marketplace. For more information on ClaimsVerse, AMJ Logistics or eDirectGlass, contact Maria Iorio (maria(dot)iorio(at)edirectglass(dot)com) at 480.993.0915 or visit our website at http://www.edirectglass.com.
About Universal Data Interchange
Universal Data Interchange founded in 1993, an impartial third-party administrator utilizing our proprietary software SmartTRAK, is headquartered in DuBois Pennsylvania with a 2nd location in Philadelphia. Our DuBois location has a 24/7 Call Center and Consolidated Billing Center. For 21 years we have provided audit, call center, and payment services to our clients; freeing them to focus on their core business. We understand that there are often competing interests of parties involved in claim settlement. We deliver a service that resolves those competing interests efficiently, equitably and to the benefit of all parties concerned.