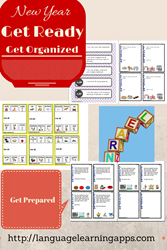 "Being positive, organized, and flexible from the start will help you and your students have a successful year." - ReadingRockets.org; a service of public television
(PRWEB) August 06, 2014
Back to school time is stressful for everyone. Teachers hope to get their students comfortable and learning from the start. Parents hope this year's teacher will understand their child and his/her special needs and circumstances. Most students hope to get a "good" teacher and not too much homework.
But some students may only be aware that there is a change coming - and they don't like change. For some students, the start of school produces anxiety. They may not understand what the change is going to be, where they are going to go, what the routine will be when they get there, or how to find things in a new environment.
Parents can help by organizing their child for the transition. Create visual schedules that show the end to summer at home and the beginning of going back to school. Make sure there is an organized, comfortable, and well-marked space for students to do homework or practice skills. Make sure there is somewhere familiar for them to put and retrieve their backpack and lunch box. Create narratives with the child about days at school.
Parents can reach out to the classroom teacher and their child's therapists, to let them know anything they won't read in the IEP. If possible, have your child meet their new teacher so that they have a familiar face when school starts. Prepare the child ahead of time by reviewing general school routines and experiences.
Teachers can help by organizing their classrooms visually so that students know where to find things and know where each activity takes place. Color coding and labeling are both good strategies for helping students find their way. Create visual schedules so that students know what is happening from the first day. Find a good balance in the classroom between visually appealing and overstimulating. Making sure there is an organized supply of visual cues, contingency maps, transition cue cards, reinforcement tokens, and task cues is a good way for teachers to start the new year.
Students with special needs may have a difficult time transitioning to a new school year. Making sure the transition is as smooth and easy as possible is the responsibility of parents and teachers alike. With a few organizational ideas they can make it happen.
Boilerplate:
Language Learning Apps, LLC was founded in 2011 by Susan Berkowitz, a speech-language pathologist for more than 35 years. Susan has worked with students with signifiant language learning disabilities - many of whom are nonverbal and non-readers - in public and non-public schools, and in her private practice, and has presented workshops and seminars around the country. Her apps are designed from intervention activities she used successfully for many years with many students. Language Learning Apps, LLC's mission is to provide quality apps that aid students in developing effective language skills. See them at http://languagelearningapps.com.
Language Learning Apps, LLC can be reached at languagelearningapps(at)gmail(dot)com or at 619 980 0347.