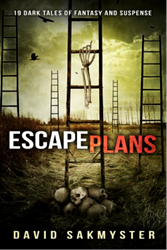 Suspense Magazine calls Sakmyster's writing, "Beyond unusual… so original, readers will not want to skip even one word!"
(PRWEB) August 04, 2014
New York author David Sakmyster, whose story The Red Envelope first appeared in L. Ron Hubbard's Writers of the Future Anthology vol. XXIII—and who credits that contest as the spark that not only ignited his imagination, but his career—comes out with his first collection, ESCAPE PLANS. From Wordfire Press, these 19 mind-bending and adrenaline-fueled stories from dark fantasy and horror to mystery, science fiction and suspense.
In addition to the Writers of the Future award-winning tale about a ghost marriage to a jealous and deadly bride, this collection includes tales about a chilling cure for cancer, a demonic GPS device, alternate quantum histories, underwater zombies, and a basement serving as a time portal; other stories deal with galactic environmental disasters, a man who can erase lives with the stroke of a marker, and a grim future set against humanity's last days. Suspense Magazine calls Sakmyster's writing, "Beyond unusual… so original, readers will not want to skip even one word!"
In addition to a successful series of novels about psychic archaeologists (which Kevin J. Anderson described as "Indiana Jones meets The X-Files") with the books The Pharos Objective and The Mongol Objective, Sakmyster has published the horror novel Crescent Lake, the suspense-thriller Blindspots and the historical epic Silver and Gold. His screenplay, Nightwatchers, has been optioned for production, and when he's not researching ghost sightings he is at work on several other screenplays and novels.
WordFire Press is fronted by international bestselling author Kevin J. Anderson, a new-model publishing house that takes advantage of dramatic changes in the industry. In addition to giving widespread exposure to new authors, WordFire publishes eBook and print titles by bestsellers Frank Herbert (Dune), Allen Drury (Advise & Consent), David Farland, Mike Resnick, Mike Baron, and Kevin J. Anderson. Wordfirepress.com