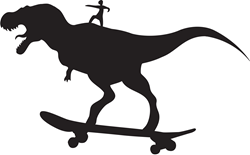 Snikwah allows active people more mobility and protection without being another thing to carry.
Naples, FL (PRWEB) August 25, 2014
Snikwah will be revealing its Original and Me Surf lines of active wear this September at Surf Expo in Orlando. Surf Expo, one of the fastest growing trade shows, will take place September 4th – 6th at the Orange County Convention Center, and will feature over 2,600 booths and 7,000 storefronts filled with innovative products. In a sea of competitors, Snikwah is ready to present their uniquely patented design and unsurpassed quality to this specialized marketplace.
Snikwah will be showcasing its two newest lines at the expo called "Me Surf" and "Me Skate." Me Surf has a number of stellar aquatic designs such as the iconic barrel wave that comes in various colors. Out in the sun too long? Put on the "Sun and Pleasure" shirt to prevent sunburn. The "Me Surf" Tiki design pays homage to the Polynesian founders with a Tiki with attitude. The sugar skull design is composed of beach graphics with sun studded eyes and a wave on its forehead. For the minimalists, they have a stunning wave icon cascading the shoulder.
The second line to be released is "Me Skate." Sticking to the roots of skating, the first shirt is a tiki with a By Land logo symbolizing the evolution of surfing on the sea to the pavement. Like simple graphics? "Me Skate" has striped and banded designs that pay homage to the racing stripe which will aide in visibility for street safety. The striped shirt has a line down the center symbolizing speed. The low double-banded shirt has clean placement, allowing the color to shine through, and the third has the trademarked Snikwah "By Air" icon for those who love to get some serious air.
According to Snikwah Worldwide President, Roy Smith, "It all comes down to a great product. Once people see it, it sells itself. Snikwah allows active people more mobility and protection without being another thing to carry." For anyone into outdoor sports, that is ideal. Not only does the Snikwah line provide environmental protection and streamlined mobility, it also looks like nothing seen before. The colors and graphics were developed to embody the surf lifestyle and to provide customers with something new. This September, the attendees at Surf Expo will get to see the product everyone is raving about.
Snikwah Worldwide:
Snikwah is a performance clothing line based in Naples, Florida and formed in 2010. The creators wanted active wear that allowed them to do what they do, only better. Just like the people that wear it, there is nothing else quite like it. The Snikwah line of shirts are patented, convertible neck performance shirts featuring full range head and upper body coverage. They are made of top quality wicking material by Dri-Release®. Dri-Release® removes moisture from the body to stabilize your internal body temperature in challenging environments like the heat of the burning sun or biting wind with SPF 50 for additional sun protection. These high performance shirts are developed for all outdoor activities from varsity sports to fishing, from skateboarding to hiking. They are breathable and versatile for any challenge.
To learn more about Snikwah Worldwide, visit http://www.besnikwah.com.com or call Snikwah's Brand Management Company Thrive Media at (239) 494-3902.
To arrange interviews with Snikwah CEO Roy Smith, please contact Jacob Albion at jake(at)thrivefocus(dot)com.
To learn more about Snikwah, visit http://www.besnikwah.com.