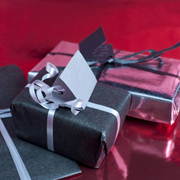 'Whether companies are producing a holiday lager or winter clothing, the right labels and stickers can help them capture the interest of prospective customers,' said Scott Proctor, Vice President of Sales at Lightning Labels.
Denver, CO (PRWEB) August 05, 2014
It's not even fall yet, but it's already time for product manufacturers to begin considering the layout of their holiday labels. Lightning Labels, a custom label and sticker printing company, can help companies rebrand their products to appeal to seasonal buyers.
People across the globe are doing their holiday shopping earlier than ever before. For example, one study from Deloitte Canada last year found some consumers were done with their shopping before Black Friday, which is the traditional start of the holiday season, while a small group had finished as early as August. Shopping early allows customers to avoid the rush and gives them more time to wait for sales and discounts on potential gifts.
Because people have been starting their holiday shopping earlier, businesses selling goods during this peak period also need to consider producing their seasonal packaging and labeling earlier. This allows them to better engage early-bird holiday buyers. Of course, printing, labeling and packaging materials earlier also ensures producers of seasonal items get their labels and packaging plenty of time before the holiday rush arrives.
"If product manufacturers are looking to celebrate the holidays with seasonal items, it's time for them to start considering their label and packaging needs for these special occasions," said Scott Proctor, Vice President of Sales at Lightning Labels. "Whether companies are producing a holiday lager or winter clothing, the right labels and stickers can help them capture the interest of prospective customers."
Custom Labels Help Promote the Holidays
Product manufacturers looking to make a splash this holiday season should leverage high-quality custom labels to do so. A themed label can be used to capitalize on holiday spirits and may help win sales from customers.
For example, one look at a liquor store during the end of the year and it's easy to find numerous beer brands advertising their own winter lagers. The right label can aid identification and add incentives for customers to buy the product now while the seasonal item is available.
Lightning Labels offers a broad number of label printing options, with different paper liners and adhesives, which makes Lightning Labels the perfect printing company for all holiday labeling needs.
Custom Holiday Stickers Celebrate the Season
Custom holiday stickers can also be used for novelty and decorative purposes. For instance, if a retailer has Santa visiting, it can give children and parents promotional stickers or place stickers on the ground to direct guests to wherever Santa is stationed in the store. Or they could leverage stickers as decorations to bring some holiday cheer to the workplace.
It's never too early to start preparing for the holidays, so manufacturers should look to print their labels and stickers sooner rather than later.
Right now Lightning Labels is offering 10% off label orders plus a chance to win $500 in labels using promo code THANKS14 at checkout. Valid on new and reorders. Maximum discount is $1000. Free ground shipping applies to orders placed online only and shipped within the US & Canada. Enter code at checkout. This offer cannot be combined with other offers or promotions. No purchase necessary. Visit Lightning Labels.com for details.
About Lightning Labels:
Lightning Labels uses state-of-the-art printing technology to provide affordable, full-color custom labels and custom stickers of all shapes and sizes. From small orders for individuals, to the bulk needs of big businesses, Lightning Labels is equipped to handle and fulfill custom label and sticker projects of all types. Best of all, like the name implies, Lightning Labels provides a quick turnaround for every customers' labeling needs. Uses for Lightning Labels' custom product labels and custom stickers include food packaging and organic food labels, wine and beverage labels, bath and body labels, and nutraceutical products, such as vitamins, essentials oils, and herbal remedies, as well as event stickers, adhesive window stickers and more. Lightning Labels strongly supports the development of environmentally friendly printing materials and carries EarthFirst PLA, a new kind of green label material made from corn instead of petroleum. While operating as a high-tech printer, Lighting Labels prides itself on its personalized customer service. Lightning Labels provides one stop shopping for all of your custom label needs. For more information and to place orders online, visit LightningLabels.com. For the latest in packaging news and labeling promotional offers, find Lightning Labels on Twitter (@LightningLabels), Facebook, Pinterest, Google and LinkedIn.