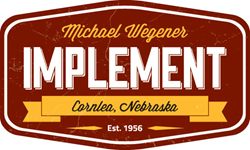 Most late model tractors and combines are selling anywhere from 30-75k under last year's market value.
Omaha, Nebraska (PRWEB) August 07, 2014
Michael Wegener has released a used agricultural implement buyer/seller outlook for fall 2014. The outlook is available for free online and provides insight on the state of the market, trends, and expected price ranges for machinery this fall.
With over 30 combined years working and operating one of the Midwest's largest agricultural machinery auctions, Michael's unique knowledge made the outlook a natural extension of the business.
"I think folks are looking for this type of information, and I felt we could offer more accurate information than the current options," says Michael.
With a soft corn market, growers are evaluating their equipment expenditures closely. Knowing what the market estimates are for equipment gives both buyers and sellers a realistic set of expectations that may prompt them to make a transaction if conditions are in their favor.
Company Information:
MWI specializes in buying, selling, and trading new/used equipment, specifically agricultural and construction, year round. Every year in February and again in August, MWI holds Live Consignment Auctions in Cornlea, Nebraska that draw crowds in excess of 1000 people. In 2010, MWI added an online division known as Cornlea Iron, which holds monthly online consignment auctions.
MWI's next live consignment auction will take place Thursday, August 28th, at their Cornlea, Nebraska location. Please visit http://www.wegenerimplement.com for more information.