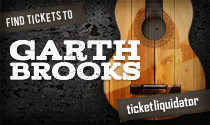 It's about time he's going on tour. It's been such a long wait, but the anticipation will make it even better.
South Windsor, CT (PRWEB) August 08, 2014
Tickets for the September 19th Garth Brooks concert in Atlanta, Georgia are now on sale at Ticket Liquidator. The upcoming schedule of Garth Brooks concerts is being announced slowly, city by city, as the country singer builds excitement for his first major tour in thirteen years. His latest reveal stated that the second show of his international tour with Trisha Yearwood will take place September 19th at Georgia's Phillips Arena in downtown Atlanta.
The country music star is causing quite a stir among fans young and old with his recent announcement of a world tour. Brooks, who hasn't toured in thirteen years, is creating strong fervor not unlike Beatlemania with a limited schedule release. "It's about time he's going on tour," says Dyana Ryba, Concert Specialist at Ticket Liquidator. "I've been following Garth Brooks for years, so as a huge fan, I can understand everyone's eagerness. It's been such a long wait, but the anticipation will make it even better."
This anticipation, however, leads to quick sell-outs, which is great for Brooks, but not so great for fans. Brooks' ten Chicago shows sold out in less than three hours. That's over 180,000 tickets! For sold-out shows, the secondary ticket market can play a vital role in connecting people with tickets. Ticket Liquidator provides these connections, so make your purchase through Ticket Liquidator to see Garth Brooks in concert this fall!
###
League and team names are the property of their respective owners. Ticket Liquidator does not claim any right or ownership to any of the team or league trademarks contained in this press release. They are strictly used for descriptive purposes and do not imply an endorsement or partnership.
Ticket Liquidator is an online marketplace for tickets to live entertainment events. Since 2003, Ticket Liquidator has provided a selection of event seating inventory which now exceeds $1Billion. With 7-day Customer Service, PCI and SSL security certifications and a Worry-Free 125% Guarantee and Safety Net Program, Ticket Liquidator ensures that all purchases are made with confidence.