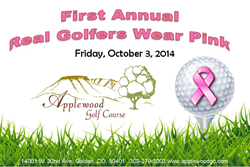 Golden, Colorado (PRWEB) August 25, 2014
On Friday, October 3, 2014, Applewood Golf Course and the Touchstone Golf Foundation will kick off Breast Cancer Awareness Month by hosting the 1st Annual Real Golfers Wear Pink Golf Tournament, Dinner, and Silent Auction. Their goal is to raise $10,000 for Susan G. Komen®, Colorado which will provide local education, screening, and treatment for Breast Cancer.
Nationally, Susan G. Komen® has played a critical role in every major advance in the fight against breast cancer. Nearly 75 percent of women over 40 now receive regular mammograms, the single most effective tool for detecting breast cancer. In 1982, less than 30 percent received a clinical exam. The five-year survival rate for breast cancer, when caught early, is now 98 percent—compared to 74 percent in 1982. The federal government now devotes more than $900 million annually to breast cancer research, treatment, and prevention.
Applewood Golf Course and The Touchstone Golf Foundation want to support Susan G. Komen®, Colorado in continuing success of their efforts to support research, education, screening, and treatment for Breast Cancer in the State of Colorado. With the support of their community, they are confident they will reach their goal of $10,000.
Real Golfers Wear Pink Agenda
11:45 AM to 1:00 PM
Box Lunches, Driving Range and Putting Green
1:30 PM
Shotgun
Four Person Scramble Tournament
6:00 PM
Appetizers, Dinner, Silent Auction, and Prizes
$110 per Golfer
Price includes Box Lunches, Green Fees, Cart Fees, Range Balls, Appetizers, Dinner, and Prizes
*For those not playing golf, tickets may be purchased separately for the Dinner and Silent Auction at a cost of $45 per guest.
If you are interested in participating in the tournament, donating items for the silent auction, or sponsorship opportunities, please contact Tara Lindsay at 303-278-6637 or tlindsay(at)applewoodgc(dot)com. You may also download the registration and sponsorship opportunity forms at http://www.vistaapplewood.com/upcoming_events/.