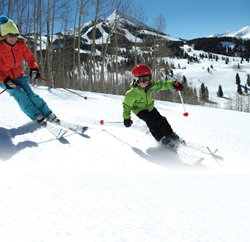 The discounts will not get any deeper for the 2014-2015 winter season.
Mt. Crested Butte, CO (PRWEB) August 06, 2014
With flowers blooming and warm sunshine beaming down, it is hard to imagine cool white snow and making turns on skis in a few months. Or maybe it is the perfect thought on a sun-baked afternoon. Crested Butte Mountain Resort has recently launched their annual Book Early, Save Big promotion that gives bigger and better deals to those who start planning their ski vacation in the summer. Right now, the resort is giving 30% off lodging when guests book a minimum of four nights for the 2014-2015 winter season by August 15, 2014. The lodging discounts continue on a tiered system for the next two months; save 25% when lodging reservations are booked by September 15, 2014 and save 20% on or before October 15, 2014. What this really means is that guests should book now and save more.
If that deal wasn't enough, guests flying to the popular ski destination have the opportunity of nearly free airline tickets. The resort is providing airline credit of up to $400 per ticket when guests book lodging and airline tickets into the Gunnison-Crested Butte Regional Airport (GUC) by October 15. Restrictions and blackout dates apply for the airfare deal, but the discounts will not get any deeper for the 2014-2015 winter season.
The airfare savings amount is based on the month you choose to visit Crested Butte and must be combined with lodging. The deals: Save $300 for January arrivals, take $200 off for February arrivals, and $100 off for March & April arrivals! Plus, arrive on a Monday or Tuesday and save an additional $100 per airline ticket. That is a total potential savings of $400, if you travel in January and arrive in Gunnison on a Monday or Tuesday.
The Gunnison-Crested Butte Regional Airport has multiple daily direct flights from Denver International Airport (DEN), daily flights from Dallas-Fort Worth International Airport (DFW) and weekly Saturday flights from Houston at the George Bush Intercontinental Airport (IAH) and Chicago O'Hare International Airport (ORD). For a full air schedule visit http://www.skicb.com/airservice and to make reservations and save for this coming winter, call Crested Butte Vacations at 844-993-9547.
About Crested Butte:
Nestled in the heart of Colorado's Rocky Mountains, Crested Butte is committed to preserving the pristine landscape and mountain lifestyle. With vibrant Victorian store fronts and expressive local characters, the small historic town remains true to its heritage and radiates an unparalleled welcoming and inviting spirit that celebrates a simpler life and time. Thanks to a widely diverse landscape, outdoor enthusiasts of all levels will find a new challenge with each visit. From world-class mountain biking, to legendary skiing and snowboarding, to a secluded fly-fishing experience, Crested Butte is one of Colorado's best-kept secrets. http://www.skicb.com
For more information about Crested Butte's lodging, conference, meeting facilities, and special packages, call Crested Butte Vacations, 844-993-9545 or visit the web site at http://www.skicb.com.
###