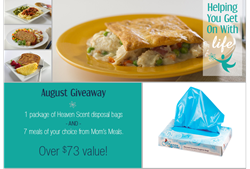 'Among the many causes of malnutrition, including financial limitations, medications and depression, physical problems also limit seniors' ability to shop for and prepare meals.'
Neenah, Wis. (PRWEB) August 07, 2014
The CareGiver Partnership, a national retailer of incontinence products and other home health care supplies, announces its August "Helping You Get On With Life" sweepstakes includes two prizes: one designed to help seniors eat healthfully and one that makes incontinence product disposal easy and discreet.
"Hunger and malnutrition are very real problems for America's seniors. Among the many causes of malnutrition, including financial limitations, medications and depression, physical problems also limit seniors' ability to shop for and prepare meals," says Wilson. "There are a variety of programs to help seniors get proper nutrition. Those who don't qualify for federal or state nutrition programs should consider a service like Mom's Meals."
Here are the prizes to be given away to one lucky winner, according to Wilson:

Seven meal choices from Mom's Meals, with free doorstep delivery. Mom's Meals delivers nutritionally balanced, freshly prepared meals to customers' homes. Designed to meet the needs of our aging population, each meal contains fresh foods, is microwaveable and will keep in the refrigerator for two weeks. Mom's Meals offers 45 unique meal choices, including specialty choices like low-sodium, low-fat, gluten-free and more.
Heaven Scent premium scented bags. Designed for the discreet disposal of incontinence, feminine hygiene or baby products, Heaven Scent bags feature a powder scent to mask unpleasant odors and an opaque design to hide contents. Ideal for carrying in a purse, pocket or carry-on bag, package contains 50 each.
For a chance to win this month's prize package, participants need only e-mail info(at)caregiverpartnership(dot)com or mail a short statement explaining why the prize would be useful to him or her or a loved one. The CareGiver Partnership will accept entries for this prize through Aug. 31, 2014, and will notify the drawing winner the first week of September.
The CareGiver Partnership created the "Get Back Into Life" monthly sweepstakes to raise awareness of products and services that help seniors live independently and make caregivers' jobs easier. Prizes to be given away through the remainder of 2014 include TriDerma skin care packages, Stander Metro walker, Prevail premium washcloths and pull-on underwear, TENA flushable washcloths, a Beam 'N' Read light, and a Stander Assist-a-Tray. Prizes will be announced the first week of every month on The CareGiver Partnership blog.
The CareGiver Partnership is a national direct-to-consumer retailer of home healthcare products for incontinence, diabetes, nutrition support and more. In its seventh year of providing products and services that help caregivers and loved ones maintain personal dignity, the company also offers an online library of more than 1,500 family caregiver resources and personal service by experts in caregiving. Call 1-800-985-1353 or visit online at http://www.caregiverpartnership.com.