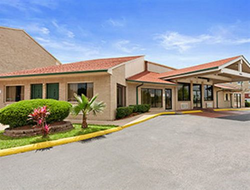 "...We shall work hand in hand to ensure that our customers get to enjoy better and easier parking options...."
Houston, TX (PRWEB) August 19, 2014
Greenbee Parking, the latest parking service sensation in America, has announced further expansion of their portfolio with a strategic new partnership with Hobby Airport Inn in Houston. The close proximity of the Inn to the airport (just 1.2 miles) is a boon for travelers who want to avoid the airport rush and get a secure spot for their vehicles when they fly out of town. Going online to book a spot through the Greenbee website is enough; no need to book a room at the Inn to park at their secure parking lot at all. Once the car is parked, customers can simply hop on to the shuttle which runs 24 hours a day at frequent intervals. This service is free for Greenbee customers who simply add to their savings and ease of travel. As the latest addition to Greenbee services, parking at the Hobby Inn will mean more space, easier bookings and safer options for all without spending a bundle like the usual HOU airport parking rates.
"We are very excited about our partnership with Hobby Airport Inn," said Christine Cooper – Marketing Coordinator, Greenbee Parking. "As with all our partners, we shall work hand-in-hand with them to ensure that our customers get to enjoy better and easier parking options every day. No matter how late they book or how much of a rush there is, we can now promise a parking space of their choice at affordable HOU airport parking rates round the year, even during the holiday seasons."
William P. Hobby Airport Parking Information
William P. Hobby Airport is second to the IAH but that definition perhaps belies the fact that is it a very busy airport. As the oldest commercial airport of the city, it has seen constant action for over eight decades now, and business only seems to be increasing every day. It is the preferred airport for inter-country travelers, be it for business or leisure. Expansion plans are in process and the airport is slated to receive international status in another two years. In 2013 it had 11 million passengers traveling through it, availing the nonstop flights to over 40 cities. Among the many areas of expansion the airport parking has received special attention since ground traffic volume has increased proportionately with airport business. Service providers like Greenbee Parking have proved their mettle as a reliable brand with their innovative parking options at the incredibly low HOU airport parking rates.
The Greenbee Airport Parking Solution
Greenbeeparking.com is the connection between consumers and parking vacancies in close proximity to major airports and seaports. The parking spaces are very affordable because the company has negotiated discounted rates with major hotel chains for the parking spaces that are not currently occupied. Here's how it works.
Greenbee Parking puts the available inventory of parking spaces on their website to be reserved by business and leisure travelers looking for cheap airport parking. This alternative method for finding parking equates to significant savings for the traveler. You can learn more about their offers from (http://youtu.be/RWc3dqhugFA) or via the web at http://www.greenbeeparking.com.
About Greenbee Parking
Greenbee Parking is the nation's most innovative long term parking company, with a new way of making long term parking affordable. The company is rapidly adding new airports to its network.