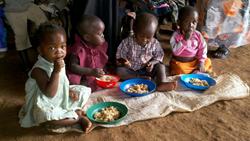 (PRWEB) August 06, 2014
Stop Hunger Now and Christian band, Willet, have joined forces in the fight against hunger for more than 3 years mobilizing more than 640,000 nutritious meals and engaging more than 5,000 volunteers nationwide. Stop Hunger Now meal packaging events are a volunteer-based program that coordinates the streamlined packaging of highly nutritious dehydrated meals comprised of rice, soy, vegetables and 23 essential vitamins and minerals.
Willet will be releasing a full length album called "Searchlight," on August 26, 2014. The album is a "community worship album" with songs touching on themes of global poverty, orphan care, and missions. Along with the release of the new album, the band has announced a campaign to complete their One Million Meal Goal with Stop Hunger Now by sharing that, "Every $1 spent on Willet Merchandise (online & at live concerts) will = 1 Nutritious Meal through School Feeding Programs in over 65 countries!" In 2015, the band will embark on a unique "Worship & Meal Packing Tour" where volunteers will receive a free acoustic worship concert by the band before packing 10,000 meals in each city.
"For several years, we have been encouraging Willet fans to give generously towards our vision of mobilizing One Million Meals for hungry children around the world, and they have responded," says lead singer, Jeremy Willet. "With the upcoming release of our new full-length album, we recognized that there would be a lot of attention surrounding the release and tour, and we wanted to prove that "Searchlight" is more then just a collection of 10 songs; it's about being willing to go into dark places in our world. Our band exists to be a voice for the voiceless, and often times, the voiceless in our world are young children fighting starvation and malnutrition in developing countries. We have a unique opportunity to use music as a platform to raise awareness and funds for the most vulnerable people in our world. This is the next generation of worship and missions."
Around the world, nearly 870 million people lack adequate food and about 25,000 die each day from hunger-related causes. Stop Hunger Now operates meal packaging locations in 17 cities throughout the U.S. and four international locations in South Africa, Malaysia, the Philippines and Italy. In 2014, a new location opened in Houston, TX. More than 400,000 volunteers from corporations, churches, schools and civic organizations have packaged Stop Hunger Now meals.
Founded in 1998, Stop Hunger Now has delivered aid and disaster relief supplies in the form of food, medical supplies, clothing, school supplies and more to thousands of disaster victims and other hungry and vulnerable people in 65 countries.
"We have personally visited the international school feeding programs supported by Stop Hunger Now's packaging program, and we are seeing the evidence that education, nutritious food, and community involvement can literally transform an impoverished community!" said Jeremy Willet.
Pre-order packages for "Searchlight" are available August 1st on http://www.willetonline.com and the full-length album will be available in digital format worldwide (iTunes, Spotify, Rdio, Xbox Music, Yahoo Music, etc) on August 26 with physical CD's available online at http://www.willetonline.com or at all Willet Live Concerts on a pay-what-you-can donation basis.
For more information, contact by calling 707-948-6437, or writing to P.O. Box 123 Westminster, MD 21158.
For more than 15 years, Stop Hunger Now has been creating a movement to end hunger with more than 150,000,000 meals distributed along with other aid to 65 countries. Driven by a mission to end hunger in our lifetime, the organization provides food and life-saving aid to the world's most vulnerable and helps mobilize the necessary resources impacting millions of lives.
Stop Hunger Now meal packaging programs offer volunteers the opportunity to participate in a hands-on international hunger relief program and to become educated, engaged advocates for the world's poor and hungry. In 2013, Stop Hunger Now packaged 38.6 million meals in the U.S. and an additional 3.3 million meals were packaged by international locations.
In its efforts to respond to emergency needs around the world Stop Hunger Now receives and distributes significant donations of in-kind aid. These donations are large quantities of food, medicines, medical supplies and other such items as may be of use in fighting hunger and providing relief in a crisis.