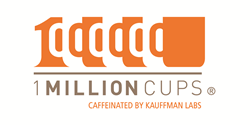 Kansas City, MO (PRWEB) August 06, 2014
From Anchorage, Alaska, to San Juan, Puerto Rico, and four dozen points in between, the national network of 1 Million Cups communities has reached an impressive milestone: It is now in 50 cities nationwide. Based on the notion that entrepreneurs network and solve problems over a million cups of coffee, the Kauffman Foundation created 1 Million Cups to engage, educate and connect entrepreneurs in their local communities.
1 Million Cups began in April 2012 in Kansas City, Mo., and has quickly grown. At the beginning of 2013 it was in two cities, at the beginning of 2014 it was in 23 cities, and it has more than doubled in the past eight months. 1 Million Cups currently is in 29 states and one U.S. territory with an estimated national weekly attendance of more than 2,500.
As a free, weekly gathering to help build startup ecosystems on a grassroots level, the program's format is consistent in each location: For one hour every Wednesday morning, two early-stage startups present their companies to a room full of their peers, mentors, advisers and potential investors. Each founder presents for six minutes, followed by a 20-minute question-and-answer session with the audience.
The inaugural 1 Million Cups event in Albuquerque featured presentations by:

Emily Bennett, founder and CEO of Baby Blastoff! — a new baby clothing company that provides alternatives to traditional gender colors and designs
Andy Lim, CEO of Lavu Inc. — a developer and distributor of point-of-sale software for mobile devices
In each 1 Million Cups city, local entrepreneurs drive the program as local community organizers. View the national website at http://www.1millioncups.com and access the Albuquerque microsite at http://www.1millioncups.com/albuquerque.
The Ewing Marion Kauffman Foundation is a private, nonpartisan foundation that aims to foster economic independence by advancing educational achievement and entrepreneurial success. Founded by late entrepreneur and philanthropist Ewing Marion Kauffman, the Foundation is based in Kansas City, Mo., and has approximately $2 billion in assets. Visit http://www.kauffman.org for more information.