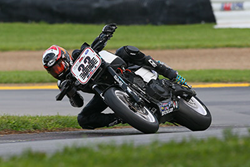 I'm hungry to show what my Millennium Technologies XR1200 is capable of.
(PRWEB) August 06, 2014
Millennium Technologies-sponsored rider Kyle Wyman will be competing at this weekend's doubleheader event at Indianapolis Motor Speedway where he will strive to collect race wins in the Harley Davidson series events.
Wyman attended the 2013 edition of the race under the role of team owner when he fielded nine different riders under the Kyle Wyman Racing (KWR) banner. This year brings different roles and goals as he focuses on podium finishes for his own events.
"I'm excited to be heading back to Indianapolis and competing in front of the MotoGP crowd again," Wyman said in anticipation of the event. "The support from Harley-Davidson and Vance & Hines has given us great opportunities like this one, and I want to make the most of it. My last win at Road America feels like it was ages ago, and I'm hungry to show what my Millennium Technologies XR1200 is capable of."
Wyman is currently holds the 6th position in series points standings where he is 51 points out from the lead position. With only three rounds remaining in the season, podium finishes are the only ways left for Wyman to regain championship contention.
Despite a wide point gap, Wyman isn't out of the running and remains optimistic, focusing on his goals.
"It's definitely a far-cry, that's for sure," Wyman said. "But mathematically speaking, we're not out of it. There are some things that happened this year which haven't gone our way, but the focus is forward and right now we have three more opportunities to win races and gain some points back - two of them are this weekend."
This weekend's races will not be covered on Fanschoice.tv. To keep up with the event and Kyle Wyman stay tuned into his Facebook page at http://www.facebook.com/kylewymanfans.
To get the same performance services and parts as Kyle for your motorcycle or powersports vehicle, go to http://www.mt-llc.com to see Millennium Technologies products and services.