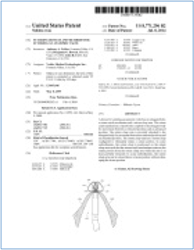 We are very proud of this life changing technology for repairing heart valves
FOUNTAIN VALLEY, CA –
(PRWEB) August 07, 2014 -- By: HeartStitch
Prof. Anthony Nobles, CEO of HeartStitch
HeartStitch, Inc. today announced that it has received another US Patent for its HeartStitch Technology. The patent "Suturing devices and methods for suturing an anatomic valve" is for the HeartStitch MR and AP products that are designed to allow physicians to be able to percutaneously repair heart valves.
Prof. Anthony Nobles, CEO of HeartStitch and co-inventor on the issued patent commented, "This is a strategic patent for us particularly for the specific indication of repairing and remodeling of heart valves, this market is the primary focus of HeartStitch and building our IP portfolio is critical to our long term success."
Ben Brosch, President of HeartStitch and co-inventor on the issued patent commented, "This patent has two significant independent claims, one apparatus and one method claim. We strive to create new unique technologies that we can protect with strong patents and we are very proud of this life changing technology for repairing heart valves".
About the HeartStitch MR & AP™ Systems
HeartStitch's MR & TA are the first suture-based devices that allows for repair and remodeling of heart valves percutaneously through the apex of a beating heart. The HeartStitch MR & AP will enable a physician to place sutures through the apex of the heart and apply and repair and remodel the valve structures. The HeartStitch MR will be used to suture the leaflets of the mitral valve in patients with early stage congestive heart failure. The HeartStitch AP will allow physicians to repair and remodel the mitral valve through a percutaneous beating heart approach to perform an annulplasty.
About HeartStitch
With a focus in Structural Heart treatments, HeartStitch was founded to bring its established Femoral Closure suture technology to the treatment of several structural heart applications including "Trans-Apical Access and Closure", "Mitral Valve Remodeling" and "Mitral Valve Annulplasty".
The HeartStitch TA and MR are FDA cleared in the United States and the have CE Mark in the European Union.
Visit HeartStitch http://heartstitch.net/