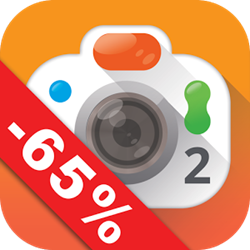 (PRWEB) August 10, 2014
Application developer JFDP Labs recently published a two-page marketing brochure describing the optimization of its creative Camera 2 application for Intel® Atom™ tablets for Android*. A broadening set of users will now be able to experience real-time effects while capturing photos or videos on their devices.
The document elaborates on the successful collaboration between the development team at JFDP Labs and Intel® that allowed this enhancement to come to life on Android* tablets. Users can now benefit from more than 40 high-quality photo/video effects, and the ability to share saved creations straight from the app. With faster loading, Camera 2 is fully optimized on the device, and makes taking customized photos easier and faster than ever.
The versatile capabilities of Intel Atom tablets for Android* suit the app's detailed editing options perfectly. As an Intel® Software Partner, JFDP Labs experiences the benefits of the portfolio of technical and support services within the Intel® Developer Zone.
About JFDP Labs
JFDP Labs Limited is an application developer based in the United Kingdom. For more information, please visit: http://www.jfdplabs.com.
Intel, the Intel logo and Intel Inside are trademarks of Intel Corporation in the U.S. and/or other countries.
*Other names and brands may be claimed as the property of others.
Copyright © 2014 Intel Corporation. All rights reserved.