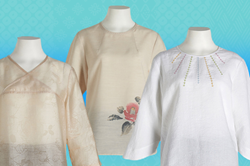 ...inspired by the simple, traditional Korean clothing worn for centuries by those striving for personal enlightenment and to benefit others
(PRWEB) August 07, 2014
ChangeYourEnergy.com has added a new look, based on the old, to its yoga and meditation apparel shop.
The new line, called Living Traditions, offers shirt and pant designs for both men and women that were inspired by the simple, traditional Korean clothing worn for centuries by those striving for personal enlightenment and to benefit others in their daily living.
Living Traditions clothing pays homage to the simple life and the search for a balanced earth. From soft and natural 100% hemp tops to wide-legged pull-on pants, every item was selected for their beauty, comfort and to facilitate ease of movement and the flow of Qi.
Living Traditions derives its name from the Korean clothing style 'Saeng Hwal Hanbok' that represent traditionally designed clothing for everyday life.
A variety of designs to fit many lifestyles can be found in the CYE shop. Shipping is included.
About ChangeYourEnergy.com:
ChangeYourEnergy.com is a wellness lifestyle resource based on energy philosophy and the teachings of Ilchi Lee, a meditation and brain education leader. Changeyourenergy.com offers accessible, around the clock guidance, inspiration and practical online training to enable people to realize and activate their full human potential. The site offers lifestyle tips, health and wellness articles, exclusive seminars and personal development coaching.