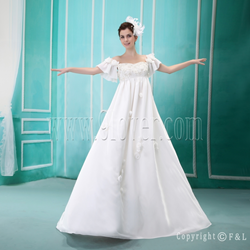 (PRWEB) August 07, 2014
Elegant maternity wedding outfits are in huge demand in the current market. 9Lover.com, one of the most loved online dress suppliers, has unveiled its new collection of maternity wedding dresses online. Additionally, it is now offering big savings for these nice products; all clients can enjoy this promotion before August 22, 2014.
"We are excited to unveil the new and fashionable maternity wedding outfits," the company's chief executive officer says. "The main purpose of this promotion is to expand our online market in the beginning of August. I am sure all the international consumers will love our fresh products. Ladies, just visit our online store and order your dream outfits!"
It is true that all clients who want to buy tailored dresses can talk with the company's workers online. All 9Lover.com's custom made items are promised to be excellent. As is known to most consumers, the company's special occasion gowns are amazingly beautiful. They feature flattering looks and great craftsmanship; the newly announced maternity wedding dresses are no exception.
Now, 9Lover.com's workers are striving to create more fashionable gowns for ladies who want to look elegant without paying a lot of money. The best thing about this hardworking supplier is that all its items are available at very competitive rates.
About 9Lover.com
9Lover.com is a professional manufacturer and retailer of fashionable special occasion gowns (including maternity wedding gowns, plus size wedding dresses, lace prom dresses, A-line wedding dresses and so forth). The suppliers has been working in the garment industry for several yeasts; all its top experts want to help worldwide clients to be more elegant. It has thousands of quality and trendy items online for sale.
For more information, readers can visit http://www.9lover.com/Wedding-gown-dresses14.html.