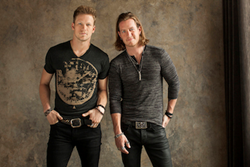 Regina, Saskatchewan (PRWEB) August 09, 2014
SALES FOR 2015 CRAVEN COUNTRY JAMBOREE ON RECORD PACE
The 10th Anniversary edition of the Craven Country Jamboree proved to be the most exciting ever for fans – and their enthusiasm for the World's Greatest Country Music Festival is already carrying over into 2015.
Historically, fans purchase tickets during the current show, building excitement to the announcement of a headline act for the coming year. Those tickets were sold before the announcement of the talented duo, international smash sensation, Florida Georgia Line, Friday headliner for 2015.
With fond memories of 2014 and an amazing headline act announced, fans have continued to snap up tickets and camping at an incredible rate. Reserved camping officially went on sale to the public on August 6th and the largely expanded camping area is already over 25 per cent sold with all of the Gold area, and three Silver areas already at capacity.
At the time of this release, there are less than 600 tickets still available at $139. This price is an incredible deal for what will be a huge lineup in 2015. Currently tickets and reserved camping are available online at http://www.cravencountryjamboree.com or by calling the office at 306-757-0007 or toll-free at 1-866-388-0007. Get your tickets and camping now to keep the party of the summer going into 2015.
For more information contact:
Kim Blevins – Director of Marketing
Craven Country Jamboree