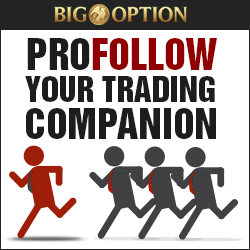 The ProFollow is yet another innovation of BigOption, for the best interest of its growing portfolio of traders.
London, UK (PRWEB) August 08, 2014
BigOption is proud to announce the launch of its social trading feature, ProFollow. This social trading tool is the revolution in the industry, offering a much more colloquial way of transacting on the options market. The ProFollow, powered by SpotOption, gives traders the opportunity to see other traders winning amount and success rate.
The ProFollow provides a more advantageous situation to millions of active traders worldwide to make profits.
In order to make it more accessible to traders, regardless of their investment volume, the ProFollow is available on the BigOption trading platform itself, on the trading tools tab. Traders can add multiple leaders and monitor the latters' trades. To be able to add them, traders only have to follow the top performers and they will automatically duplicate their trades, including their double-ups and rollovers. Moreover, they can choose their investment amount per trade and set an investment limit to keep an eye over their funds.
Leaders will be viewable in terms of the asset they are trading, their initials and their country flag. The ProFollow feature empowers new traders to follow the trends on the market and keep pace with the ever-changing landscape of the industry. Avah Forbes, marketing manager at BigOption evaluates this revolution as an excellent tool for traders to profit, "We were adamant to launch the ProFollow the soonest possible to empower our traders. At BigOption, we believe in giving our traders more than just a trading platform and I am pleased to see our traders benefit from this exclusive trading tool."
To dispel the myth about the ProFollow, it is an extremely simple tool. Traders will not have to worry about the status of their investment. They will receive instant notification for each update by email. This includes when a position is opened and when the transaction expires in-the-money or out-of-the-money. It is also very easy to 'Unfollow' a leader.
The ProFollow is yet another innovation of BigOption, for the best interest of its growing portfolio of traders. BigOption strives to put forward tools that will make the binary options industry even more appealing and profitable to everyone, irrespective of their experience in trading.
About BigOption:
BigOption is one of the world's leading online binary options trading brokers. Founded by a conglomerate of financial professionals and pioneer, BigOption offers a secure platform for serious traders. For more information, please visit http://www.bigoption.com?campaign=48